The XS-650 was made from 1970 to '83. There are basically two different styles, the standard model that looks like a Triumph Bonneville, and the Special which is slightly "chopperized".
To go through them, the XS-1 of 1970, and XS-1B of 1971 have drum brakes front and rear with steel-rimmed wheels, a front mudguard with stays to steel fork legs, bolt-on side-covers, a slab-sided tank, and were renowned for bad handling. They were Yamaha's first four-stroke and as such are the most valuable and collectable. However, later models were vastly better bikes. The XS-2 of 1972 is much the same bike but with aluminium fork legs, a disc brake in front, and an electric starter.
XS1
XS2
In '73, Yamaha was producing the TX-750 and 500, and the XS-650. Though they are three completely different bikes, it was decided that a common prefix was needed for the entire four-stroke road-bike range, and TX was chosen. The TX-650 of '73 is much like an XS-2, but with a larger, more rounded tank.
1973 TX650
1974 TX650A
Then came the TX-650A of '74. It had the same 34mm forks and brakes as a TX - a single two-piece disc with a cast-iron, twin-piston calliper in front of the fork leg, but had alloy W-type rims. It got a few other detail changes like clip-on side-covers, huge mufflers that run parallel to the ground, a larger tank and slightly different guards but the biggest change was a whole new frame and swingarm. The poor handling of previous models had been cured. The easiest way to identify this frame is by the rear-footpeg brackets. On the earlier frames this was a pressed-steel affair. The TX-A has a tubular loop. On the whole, this was a much better bike than the earlier models and it's with this one that the 650 is regarded to have "come of age".
1975 XS650B
The TX-500 and 750 were abysmal failures and were discontinued in 1975. Yamaha still believed that a particular range needed a common prefix and, wanting the world to forget about the TXs, returned to XS. Thus, what would have been the TX-650B was instead the XS-650B and the XS range grew to include bikes from 250 to 1,100cc. Confused? The XS-650B of '75 was much the same as the TX-A. The XS-650C of '76 was much the same again but the brake calliper was moved to behind the fork leg. It's mufflers were also more upswept .
1976 XS650C
The XS-650D of '77 was almost the same as the C, but with 35mm forks, a one-piece front mudguard with no stays, an aluminium, single-piston brake calliper and a new one-piece disc. The internals of the forks were changed and these were the first forks that could be re-valved and re-sprung for better performance. The D represents the final development of what's now called the Standard or Roadster model. The '78-E and '79-F were the same as the D, though they are very rare in Australia. None of these bikes ever actually had a name and the terms Standard and Roadster are merely used by owners to distinguish them from the Specials which followed.
1977 XS650D
During 1978, the XS-650SE was released alongside the E. This was the first of the Specials. In '79 came the F and SF. The F was the last of the so-called Standards, and these were the only two years that you had a choice of two models. The SE and SF have a smaller tank with the cap to one side, much shorter pipes, and cast wheels with a fat 16"er at the rear with a disc brake. They had a steel grab-rail and, as always, steel side-covers and a hinged-at-the-side, though slightly stepped, seat.
1978 XS659 SE
Incidentally, the SE was the world's third "factory custom", being released just months after Kawasaki's KZ-900LTD. First was Harley-Davidson's 1971 Superglide.
Yamaha may have been beaten to the punch, but how many LTDs have you seen lately? All three factories applied the same logic - simply do to an existing model what many owners had been doing for years. Harley Davidson were obviously first to market in 1971 but both Yamaha and Kawasaki followed their lead in 1978 and they certainly read the market correctly. By the end of 1979, cruiser bike sales were booming and Yamaha saw no reason to continue making the Standards. The XS-650SG of 1980 had an aluminium grab-rail, plastic side-covers and a removable, and even more stepped, seat. The XS-650SH of '81 was the same as the SG except for a return to a drum brake at the rear, but still with a cast 16" wheel.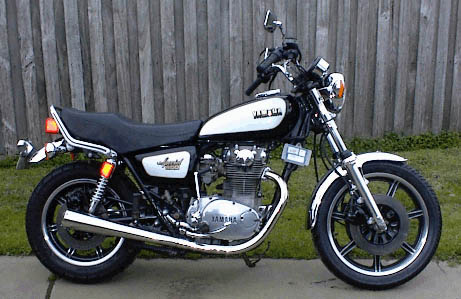 1980 XS650 SG 1981 XS650 SH
This was the last model sold in Australia but they continued for another two years in North America, as the SI and SJ Heritage Specials. Yamaha used that term long before it was ever thought of by H-D. These bikes returned to wire wheels, but with 72 spokes instead of the usual 36, steel rims, but still with the 16"er at the rear. They had black chrome, and electronic ignition fired by the crank whereas all previous models had points, driven by the cam.
1982 XS650 SJ 1983 XS650 SK
By the time it was all over, the XS/TX/XS-650 was Yamaha's longest running and biggest selling model - a title it still holds today. So good and so popular was it, that Yamaha readily admits the 650 saved it from total collapse during and after the TX-750/500 fiasco. Unfortunately however, it's generally acknowledged that the only way Yamaha could ensure the success of the XJ range was to discontinue the XS-650. Put simply, it was so good that it had to be killed off for the company and it's products to further evolve. It really was the goose that laid the golden egg, and everyone knows what happens to those.
This time however, they misread the market. Most owners would not trade their 650s in on an XJ and even when it came time for a change, many deserted the brand and looked elsewhere. Yamaha spent the rest of the '80s and the early '90s out in the woods. Though they later went on to produce some cutting-edge bikes such as the R-1, we can look back and see how Harley-Davidson stayed with a winning formula, once they'd discovered it. As well, Triumph has resurrected the Bonneville, at least three of the Japanese factories have since produced a "retro" of some kind and all are still making cruisers. It's not hard to imagine that within the company, the axing of the XS, whilst thought to be necessary at the time for the sake of progress, is now regarded as a monumental blunder.
As for which one to choose, it all depends on your personal taste, and what you want the bike for. If you like the Americanised look of a "factory custom", then go for a Special. The only choice after that is a disc or drum rear brake. You could also import a Heritage from the USA. They are not hard to find, and we have connections there.
If the more traditional "Bonneville look" is more appealing, then it's a Standard you want. Of those, if you want a bike that has historical value and collectability, then an XS-1 or XS-1B, in that order, is for you. If you prefer the styling of these early models but want the extra braking power of a disc, and the convenience of an electric starter, then look for an XS-2. The '73 TX is also very collectable as it's tank was only produced for that one year and so the model's overall appearance is quite unique. Bare in mind though, that owners say the early models are quite un-nerving to ride at any great speed.
If you'd like to modify the bike for better performance, the motors are all the same in that regard, but you'll need good handling. A '74 TX-650A or later is the go here, though the '77s and on also have the better forks. By the way, all manner of performance parts are available for them and they can be made to produce unbelievable power. The motors can be taken out to over 1,000cc, though 750-850cc is most suitable for a road-bike. So, if you intend to make a hot-rod out of it, anything '77 or later is your first choice, followed by the '76C, the '75B, and the '74TX-A, in that order.
As far as spares go, most parts are still available new. The only things in short supply are cosmetic items, tank badges and the like. If these sort of things are important to you, buy a bike that is complete. If that's not possible, there are many used parts around. Several of our members have accumulated huge stocks over the years, and many parts are now being reproduced.
If the styling of one particular model doesn't quite grab you, it's possible to fit most parts from other models to create the look you want. For example, if you want performance and so buy a '77 model but you don't like the big tank, a Special tank fits straight on. If you like the styling of the Specials but prefer wire wheels, they are a bolt-on affair, though you'll have to have a drum brake at the rear. Therefore, you'd buy an '81 SH. Say you bought a '76, but wanted cast wheels. The wheels of a Special will fit, and if you don't like the fat 16"er at the rear, an 18" wheel from an SR-500 or an XS-400 is an easy swap. Both are available with disc or drum brakes.
As with all bikes of that era, the XS has a couple of things that can be improved. The ignition system is a known 'weak link' and is unduly complex. It works OK, and has powered every 650 for eons, but an electronic unit is now available and is a great improvement. The voltage regulator can become mal-adjusted causing a flat battery but a solid-state regulator/rectifier is now available for them. The steering-head has ball bearings, which can be replaced with tapered rollers and the swingarm's bushes can be replaced with needle bearings. The carbs work OK for a stock motor, but the diaphragms can perish and even the smallest pin-hole renders them useless. They can't be repaired and are horrendously expensive to replace. Mikuni round-slide carbs bolt straight on. The oil filter is prone to tearing, letting all manner of crap go through the motor. A much better, external unit is now available. Now, none of this needs to be done and your bike will run just fine in it's standard form, but if a part needs replacing, check with us to see if there's not something better out there before buying the standard part.
If you want a project, get one for as cheap as you can find it, but see that everything you want to be on the bike is there. Generally speaking, a non-runner in poor condition goes for $500 or less. If you want a good one to ride straight away, don't baulk at paying top dollar as they are few and far between these days. A good example might fetch $2,500 - 3,500. A member purchased a '76C in 1999 with 1.1 km on the clock. It had been sitting in a Yamaha dealer's since new. The price? $7,000. In 2000, another member bought an XS-1 still in the crate for $5,000. You could spend that to restore a shoddy one to mint condition, not to mention the running around involved. Condition aside, the earlier the model, the greater it's value. For new parts there's really only a few places to shop and that's MikesXS or Mike Morse's 650 Central in the USA. Another excellent source of parts is Geoff's XS here in Australia.
While you're at it, get in touch with Omar's for info on the Street-Tracker and Manx.
One of the best things about the 650 is that great looking motor that lends itself to any style of bike you could name. We've seen 650s that are choppers, cafe racers, flat trackers, desert tourers, dragsters, trikes, hill climbers, road racers, sidecar crossers, or have sidecars.
They can be done so many different ways, or left just as they are. Not many bikes give you that choice. You can see more 650s on our web-site. You wouldn't believe what some people are doing with 650s.
The XS-650 isn't the biggest or fastest bike around but it is the easiest to maintain, most user-friendly, versatile, fun-to-ride bike that was ever made. Most owners say that if it were still possible, they'd buy a new one regardless of the price, and regret not doing so way back when they could have. Those that did buy a new one and later sold it have kicked themselves ever since. There's simply no other bike like it, and there probably never will be.

Model Year, Serial Number & Colour Specifications
Thanks to Jean Acker for the following table ( some models not available in Australia )
If you have a Yamaha XS650 with a different engine frame number to those listed below, please let me know so I can make this list as accurate as possible.
Model
Serial Number
Year
Colour(s)
XS1
S650-000101
1970
Candy Green
XS1B
S650-007101
1971
Candy Orange
XS2
S650-100101
1972
Brilliant Red
TX650
S650-200101
1973
Metallic Flake Blue, Pearl Yellow Gold
TX650A
447-000101
1974
Cinnamon Brown, Vegas Green
XS650B
447-100101
1975
Star Black, Baja Brown
XS650C
447-200101
1976
French Blue/Red
XS650D
447-700101
1977
Maxi Maroon, Bountiful Blue
XS650E
2F0-000101
1978
Star Black, Spruce Metallic Green
XS650SE
2F0-100101
1978
Vintage Burgandy, New Midnight Black
XS650F
2F0-150101
1979
Cobalt Blue
XS650SF
447-910101
(Aus)

2F0-250101

1979
Carmine Red, Black Gold
XS6502F
4F0-250101
1979
New Yamaha Black
XS650G
3G0-000101
1980
Black Gold
XS650SG
3W6 (Aus.)

2F0-200101

1980
Cardinal Red, New Yamaha Black
XS650H
4N9-000101
1981
Indigo Blue, New Ruby Red
XS650SH
5A9 (Aus.)

4M4-000101

1981
New Yamaha Black, Frost Silver
XS650J
5V4-000101
1982
New Yamaha Black
XS650SJ
5V4-100101
1982
New Yamaha Black, New Ruby Red
There is a complete model list in the tech section