Update 12/4/16
Daryl Hutcheon and John Chambers put in a weekend working on the club racer to try and figure out what is wrong with the gearbox. When they pulled the clutch basket out they discovered several broken springs in the back of the clutch basket in the primary drive area. This will not cause the gearbox problem as Mark Peatman pointed out but never the less will need to be fixed while it is apart. Mark also suggested several possible causes for the gearbox problem and all will be investigated before reassembly. For some analysis of the possible causes for spring breakage click here.
Upon further investigation into the gearbox after the removal the bottom half of the crankcase there was no damage discovered inside the gearbox to indicate why it would jump out of gear. The main culprit was suspected to be rounded or broken dogs but this theory proved to be unfounded as all were fine. Shimming and adjustment should see it right.
Ivan has asked for the entire clutch to be sent to him in Sydney for a rebuild with good re-usable parts and some modification to make it more reliable. This entails removing any sharp edges in the spring pockets of the backing plate which appear to be wearing grooves in the springs, this may be causing them to break. Heavier secondary springs will be used in this rebuild. Some cracks in the seat will be welded up by a friend of John's as will an engine clutch side cover we have in which a crack was discovered, we can then return Daryl's side cover which we have been using in the interim.
I have been looking into the possibility of replacing the rigid oil feed lines to the rocker cover with flexible ones. I got a replacement from Jerry Heiden in Holland only to discover it will need to be modified as it uses a worm drive hose clamp at the crankcase connection which is not legal for racing purposes and will have to be crimped. This means I will have to make the fitting in my lathe and then have Enzed crimp it on. I will post pics when I have finished the conversion to flexible lines. Also the fitting supplied does not have the oil restrictor incorporated into its design which could cause a serious problem if used as it would pump lots of oil to the top end of the motor and cause starvation at the bottom end. I assume this set up is for 533 Euro spec. motors which do not have squirters for the big end bearings and are fed by scoops in the end of the hollow big end pins. We need to restrict the amount of oil to the top end to maintain sufficient oil flow to the squirters which lubricate the big ends. I have just received a suitably restricted fitting for the crankcase from Geoff's XS and will attempt to make the custom fitting this weekend.
Update 5/4/16
Whilst competing at Broadford last weekend at the Victorian Road Race Titles it became apparent there was a serious problem with the gearbox when it started to jump out of third gear. Stacey managed to finish all her races on it but it have to be torn down now to fix the gearbox problem before we can send it out again for competition, this will now likely be at Historic Winton on May 28th. While it is out of action we will take the opportunity to address some of the other problems we know about like welding a crack in the seat and making a new exhaust system. I'll tell you more when we have it apart and know the extent of the damage.
Update 23/3/16
Before sending the club racer back to Victoria for the Bike Bonanza and Vic Road Race Titles Steve Hobbs has found a few problems with the bike and has done some necessary mods to improve the bike. One thing that needed to be done was to rubber mount the dash panel so Steve made a new one.
He also noticed that the brake master cylinder was hitting the clip on bar mount so he relieved it so it fit better.
Next job was the battery carrier which is now rubber mounted and made from Aluminium making it lighter and better.
Another catch bottle from the oil breather was also utilised and mounted more securely. Here is the old drink bottle formerly used for comparison. New breather pipes were also fitted.
A drilled front axle washer replaced the old solid washer shaving 7 grams in weight.
Next Steve added some fold up foot pegs which were very necessary.
Steve is also responsible for some new exhaust mounts for the original system making it lighter and safer.
The oil union at the front of the motor has been drilled for safety wiring as it was found to be working loose.
Thanks to Steve Hobbs for all his excellent work and if we keep making small improvements like these we will end up with a very competitive and reliable bike we can all be proud of.
Update 20/3/16
After quite a few disappointments and a few mechanical failures we made it to the end of the Barry Sheene Festival of Speed weekend with Ivan Hoey being the most successful in P4 750 with a second place and Colin Waltho on the Mark Peatman F.C.R. bike finishing ahead of our club racer with a 7th place and Steve Hobbs finished with a 9th place.
On the very first day of practice Hobbsy was taken out by another rider and damaged the fairing and screen and some straightening was required to get it back on the track.
Steve opted for the 2 into 1 exhaust system belonging to Ivan for the weekend.
Here is pic of the bike post accident with the fairing and screen removed and damage is also visible on the skid plate on the right side engine cover. Obviously Steve was ok thankfully.
Back on track with the fairing refitted but missing the screen which was destroyed in the accident.
One race was abandoned after several start line incidents and we later suffered a DNF for a broken oil line to the rocker box when the line cracked and spewed oil on both the engine and the track. This was replaced only to find another crack in the replacement oil line.
Another screen was ordered from Moto Tumbi on Friday night and Mick Jones delivered it to the track on Sunday at a cost of $120 but there was insufficient time for it to be fitted. It will be on the bike for the next outing at Broadford.
A slipping clutch was also discovered and repaired and the oil strainer required cleaning because of a build up of clutch dust. We will have to look at possible fixes for the problem in future. This also meant an oil change was needed and Castrol 4T was used at Ivan's insistence.
When the oil line broke I checked out possible cures for this problem and found that Jerry Heiden has a flexible oil line on offer which might be the answer to our problem.
The club racer will be at the Broadford Bike Bonanza next weekend and racing at the Victorian Road Race Title the following week with Stacey Heaney at the controls.
Update 17/3/16
The club racer is at the Sydney Motorsport Park this weekend for the Barry Sheene Festival of Speed and will be ridden by Steve Hobbs 62. There are two other XS650 entrants for the weekend including Ivan Hoey on his 17 bike and the FCR bike owned by Mark Peatman with Col Waltho 10 riding it. Good luck to all riders and we hope you all have a great time and come home safely.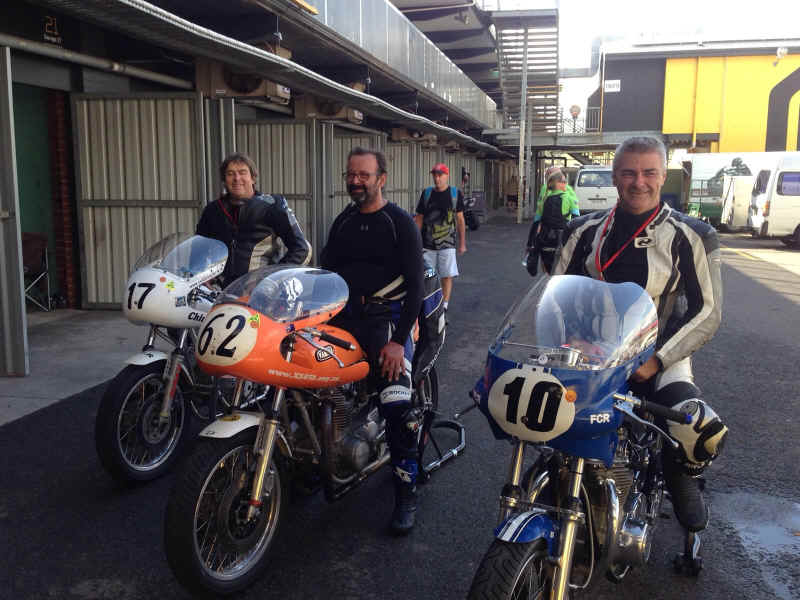 Update 8/3/16
The results of the dyno session.
Two runs were done with two different exhaust systems, the original 2 into 2 ( red trace ) and the currently fitted 2 into 1 (blue trace ). As you can see there is little difference at the moment with the carb jetting being way too rich but the red trace shows the original 2 into 2 exhaust does not drop 10 hp and 10 ft-lbs of torque between 5500 and 6500 RPM but does suffer a similar drop in HP below 5500 RPM. This would indicate the 2 into 1 would be better for the street and the 2 into 2 would be better for racing where the revs would be above 5000 RPM most of the time. Of course this may change when the proper mixture is achieved. Theoretically ideal stoichiometric value for fuel mixture is 14.7 parts oxygen to one part fuel. As you can see at the moment it is about 10:1 from 5000 RPM to 6500 RPM which is way too rich. The red dotted line indicates the proper stoichiometric value which is slightly rich as you don't want a lean mixture. When correct mixture is achieved the red and blue traces should closely follow the red dotted line on the air/fuel sheet. Hopefully we will be able to do another dyno run comparison with the mixtures sorted out.
Here you can see in the power versus torque sheet power output is virtually the same for both exhaust systems at about 62 BHP at 45 ft-Ibs torque. Once the jetting is corrected we will hopefully get access to the dyno again for a comparison. Thanks to Ivan and Marty and Craig at C&M motorcycles for doing this for us.
Update 7/3/16
The club racer has now been dyno'd at C&M motorcycles today and returned a figure of 62 bhp. It also showed the motor is running rich so now we need to rectify this problem to get the bike running at it's optimum performance for the BSFOS.
Picture of the bike post Dyno with the substitute 2 into 1 exhaust system fitted.
Update 7/3/16
Here is the entry list for the P4 750's at the Barry Sheene Festival of Speed. Three XS650's entered, should be good!

Update 6/3/16
The club racer has now been transported to Sydney for the BSFOS and a different exhaust system has been fitted to solve a short term problem. Ivan paid for the bike to be transported at great personal expense so thanks for that Ivan. I am sure the members in Sydney will appreciate it's appearance at the Barry Sheene with Steve Hobbs in control for the big event. Ivan was also responsible for the fitting of the exhaust system to make it a going concern for the up coming weekend. Ivan also plans to have the bike Dyno'd on Monday while it is in Sydney which will be interesting to see what it's got in this current state of tune with the donated and very mild camshaft (Megacycle 250-00) currently fitted. Ivan has told me he will also fit the promised drop sump plate while he has the bike as well, time permitting.
More after the BSFOS so keep watching this space.
Update 19/2/16
It is now looking more certain that the club racer will be at the Barry Sheene Festival of Speed this year with Steve Hobbs riding it. Ivan is arranging for it to be transported to Sydney in the next couple of weeks.
Update 18/2/16
Ian Smith has indicated he would like to make a donation towards some new rear shocks for the race bike. Thanks Ian for your very generous offer. Also Terry Merrit of Redline exhausts has been talking to us regarding a possible new exhaust for the racer, the details have yet to be finalised so look for more on this in the future. Stacey has indicated she is unable to race at the Barry Sheene Festival of Speed but it is hoped the bike will be there and hopefully we can get someone to ride it. The President Daryl Hutcheon is hoping it will be him if the arrangements can be made in time. More on this as the event approaches. As we are now racing the bike any cash donations helping us to continue racing will be gratefully received. If you would like to help contact the club secretary/treasurer john Chambers at secretary@xs650.org.au - Terry Gliddon - race bike committee member.
Update 25/1/16
Hello to everyone.
Well, what a weekend we had at the Island Classic on Philip Island and as usual we had four seasons in every day, from driving rain to brilliant sunshine, and everything in between, but that's the Island for you.
The Qualifying on Friday was run in terrible conditions with non-stop rain. Stacey and Racer did a 2mins36secs with a top speed of 157Kph, her first outing on the Racer and first time at the Island. The second Qualifying session was a bit better with a 2mins35secs and a top speed of 172Kph as she was getting used to the Racer and the track.
Saturday turned out to be a lot better conditions with mostly fine conditions for our track time. In Race One (R1) she dropped her times to a best of 2mins15secs and a speed of 174Kmh. If you want to watch a video of R1. In R2 Stacey dropped her times down to 2mins13secs at 181Kmh. So that was Saturdays racing done, we were happy with the results, but the Racer wasn't revving out so we added two teeth to the rear sprocket, up to 36T and did a minor jetting change.
Sunday the weather was still all over the place, rain, sun, rain, sun. But our two races were both run in the dry. We had cracked the mounting on the exhaust in the last race on Saturday and had to make some hasty repairs to that, thanks John for taking care of that.
R3 saw the times drop again to 2mins11secs at 182Kmh, getting better. R4, the final race for the weekend saw the times lowered again to 2mins10secs and our fastest speed through the trap at 183Kmh, faster than Ivan Hoey on his XS650/750 racer. Well done.
So what did we come away from the weekend with ? The exhaust needs to be more flexibly mounted, the back end needs lifting, and we need lighter throttle pull. So I think for its first real outing in racing conditions we should all be very proud of what the Yamaha XS650 Club of Australia has achieved with what we have built.
I want to thank John Chambers for helping me in the pits for the weekend, thanks buddy, great work. And to all the Club members that dropped in to say hello and lend their support, to Frank Meade for his generous donation to the Racer account, thanks Frank. And to Stacey Heaney for her riding talents in some really bad condition. There is more to come with our Racer. Stay tuned.
Your President,
Daryl Hutcheon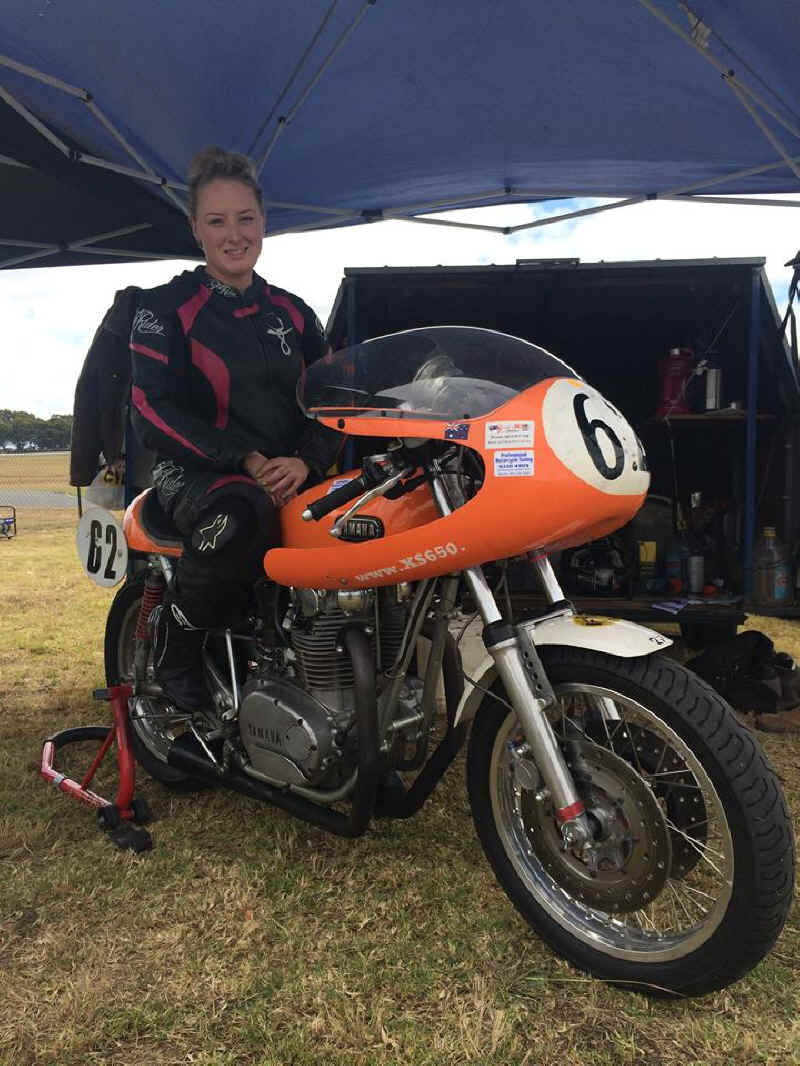 Update 17/1/16
Hi All.
Welcome to 2016 and what is hoped will be a great year for our Club Racer. As you already know we took our racer to the track late last year for its initial shake down run and bed the engine in. Well that day didn't go all to plan with some contaminates in the fuelling system, but the racer showed promise with its power.
So today, 17th January 2016, I finally gave her the berries and I have to tell you this thing has got the goods to go out and "play", I was having a ball. I don't know how many of you know the track at Broadford but it is a tight little track with some very fast straights and tight corners going up and down with the terrain.
We made some minor jetting changes to the carbs and adjusted the tyre pressures that were more suitable for the conditions today, they were a bit high last time, thanks for the info Ivan Hoey. It has been over 15 years since I was on the track last and I still fit into my leathers and went out to "play" and I had a ball. I had a few nice rear wheel sides coming out of the corners even the odd front end drift coming onto the short front straight trying to catch a Yamaha YZF750, SLOW DOWN DARYL !!!
So with everything set the way it is now it is up to Stacey Heaney next weekend where it will have its racing debut against some other Yamaha XS650s, including our own Club member Ivan Hoey on his championship winning P4 Yamaha XS650. So come on down to Philip Island next weekend and see your Racer in action.
Daryl Hutcheon
Your President.

Update 14/1/16
A donation of two crankshafts has been received from Graham Virgin in South Australia. They were picked up by Des Heaney on a recent trip to Mac Park. Thanks fellas, firstly for the generous donation and secondly for transporting it back to Victoria. They have been added to the stock of spares currently held at the PMT workshop.
Update 9/1/16
After checking out what was available locally I settled on the 1/4" ball valve taps for the racer, at $12 each I saved on postage so it worked out about the same as buying them for $8 each online. Next we needed to make some adapter plates to fit them to the early tank. I used a CAD program to draw these plans for the adapters. The CAD program allowed me to print a dimensionally correct print. I used the print as a template for centre punching the hole positions accurately and it worked out spot on. Next I wanted the taps, when tightened, to have the operating levers in the middle of the adapter plate, so I had to make some custom spacers to be fitted under the taps. After several attempts I got it right. These are now ready to be fitted to the newly cleaned and sealed tank ready for Stacey to ride at the Island Classic at the end of January.
With the addition of two barbed hose connections and some thread tape they are ready to be fitted to the tank.
Here are the new taps fitted to the tank with new barbed fittings, fuel lines, filters and adapter plates, no leaks. Engine has been serviced with new oil and filter cleaned by Daz at PMT taps fitted by John Chambers. The bike has also been polished to look nice and side cover skid plate fitted to pass scrutineering.

Update 4/1/16
I was talking to one of our club members who races the other day and he mentioned the taps we are currently using are inadequate for Phillip Island, he told me in his experience we will need taps that flow more than the stock taps. He recommended the Teflon ball type available form several sources. They are also quite cheap and will only need some adapters made for our tank. Thanks to Rob McKie for the tip. - Terry Gliddon
They come in three sizes 1/4", 3/8" and 1/2". We will probably get 1/4" (6.35mm) which are approx $8.00 each.
I had these on my Triumph and can recommend them, they don't leak and are easy to operate.