July 2017
Stacey has just signed a deal with Hi-Tec Oils and as this involves us we will be getting some oil product for future oil changes in our racer. Hi-Tecs technical department has assured us that the oil that is being supplied is equivalent to the Castrol Activ 4T we have been using to date and Ivan has decided to go with them as Stacey will be supplying us with that product as part of that deal.
June 2017
After the major rebuild the bike went Winton and in Stacey's hands cleaned up the opposition taking out the P4Unlimited class and also winning the Ken Lucas Cup.
April 2017
Following the Barry Sheene Festival of Speed and the Victorian Road Race Titles, where the bike performed very well incidentally, it was noticed that a crack had started to appear in the upper crankcase.
As you can clearly see in the picture it has cracked in the top case just in front of the rear engine mount and to do the job properly it will have to be welded inside and out to make sure it does not reoccur.
While this is being fixed John Chambers who has the rolling chassis at his workshop will do some minor touch ups on the frame to make it look pretty again but also the check it over for any problems that might be evident.
We will also look at getting a tachometer for the bike, Ivan's preference is to get a Scitsu brand tacho which has its own battery supply independent of the bikes battery and it triggered by induction so no physical connection to the ignition system.

The top engine mount on the rocker cover has also got some damage that will also be fixed while it's at the welders. Apparently John has the piece that was broken out of the top mount.
Here is the motor all apart to repair the cracked crankcase at Nick's place, he has transposed all the internals into another set of cases we had that were donated so we'll use them and get the others repaired for spares. While it was apart Nick noticed the cush drive springs in the back of the clutch basket had broken again. I had a spare set so I sent them up for Nick to use. While he was checking out everything he noticed the bearing bush in the primary drive gear was a little tight so he machined .002" off the bush and the clutch spins nicely now.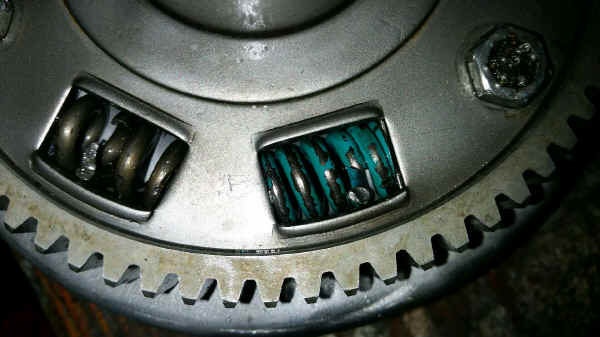 This is the bush previously described which was too tight and may be the cause of some of the clutch dragging issues that have plagued us. We will soon see when it's all together again.
Ivan sent down the repaired clutch cover that had been leaking so now we can return the one he lent us back to him, thanks Ivan. He also sent down the required gaskets for the rebuild and some tyres Stacey requested for the racer. Ivan also suggested we fit an hour meter so we will know how many hours the engine has run which will help us determine when it may need attention again.
When I last spoke to nick the motor was well on the way to being together again as evidenced by the pic he sent me, just the head to go and it will be all but finished.
The cush drive springs have yet to fitted but that begs the question do we use the buffer blocks or go ahead and just fit all new springs? The buffer blocks restrict the rotary motion of the primary drive gear which compresses the springs and the theory is if you can prevent the springs from binding it will stop them from breaking. We have never used the buffer blocks before because Ivan doesn't use them in his racer so we decided to follow his lead and not fit them either but now it seems it might be beneficial to try them. Ivan might not have the problem because he has a different riding style to Stacey but will only know if we give it a try and see what happens.

Did you know there are differences between the early and later crankcases? I thought the only difference was in the area of the front engine mount but they are also different around the rear engine mount as well.
Notice the webbing inside the crankcase on this early model compared to the heavier webbing on the later set below.
This may be the reason we got some cracking in our crankcase and the reason why the factory added some extra heavier webbing on the later models. Interesting theory.
Thanks to Nick and all involved in getting our racer back on track.
Stacey

's new tyres.

March 2017
International Festival of Speed 2017
The International Festival of Speed or as we affectionately call it the Barry Sheene was run on the weekend of the 23rd – 26th of March at the Sydney Motorsport Park Eastern Creek Venue with several XS650's in attendance. The club racer was there of course with Stacey Heaney aboard and Ivan Hoey was also there with his championship winning bike and last but not least Mark Peatman's team FCR bike was also there with ex club member Colin Waltho aboard.
Heading out for the last race
Stacey also rode a Honda CB125 and a Suzuki T500. She also rode a Royal Enfield in practice but the class was cancelled so she then rode the club racer in the P4 750 class as well to finish the weekend with a 4th place result in that class.
The Races
Friday - P4 Unlimited Leg 1 - Stacey started the day with a fastest lap on lap 2 with a 2:07.906 Ivan did not appear in the results for this race.
P4 750 Leg 1 - Ivan started with a fastest lap on lap 2 with a 1:54.946 followed by Stacey with a fastest lap on lap4 with a 2:00.922 and Colin following them with a fastest lap on lap2 with a 2:07.757 but received a 10 second penalty for a jump start.
Saturday - P4 Unlimited Leg 2 - Ivan started this race with a fastest lap on lap 3 with a 1:53.588 and Stacey following him with a fastest lap on lap3 with a 1:58.064
P4 750 Leg 2 - Ivan again lead the way with a fastest lap on lap5 with a 1:54.397 with Colin following him with a fastest lap on lap 4 with a 2:01.954 and Stacey following them with a fastest lap on lap 5 with a 2:03.405
P4 Unlimited Leg 3 - Stacey was alone again in this race and managed to do a fastest lap on lap 5 with a 1:57.429
P4 750 Leg 3 - Ivan lead the way again with a fastest lap on lap 3 with a 1:52.590 followed by Stacey with a fastest lap on lap 4 with a 1:57.701 and Colin following with a fastest lap on lap 5 with a 2:02.553
Sunday - P4 Unlimited Leg 4 - Stacey finished this leg with a fastest lap on lap 4 with a 2:00.572 and Ivan DNF
P4 750 Leg 4 - Ivan bounced back to lead the XS's with a fastest lap on lap 6 with a 1:53.563 closely followed by Stacey with a fastest lap on lap 3 with a 1:55.967 and Colin DNF
P4 750 Leg 5 - Stacey again lead the XS's with a fastest lap on lap 3 with a 1:58.602 followed by Colin with a fastest lap on lap 5 with a 2:02.333 and Ivan DNF
The Results
P4 Unlimited - Stacey finished in 7th place with Ivan finishing in 11th place. Ivan crashed in one race which affected the results.
P4 750 – Stacey finished in 4th place followed by Ivan in 6th place and Colin finishing in 8th place.
L – R Ivan Hoey (5) Stacey Heaney (162) Colin Waltho (110).
Well done to all our club members involved this weekend.
Just a reminder for all visitors to the track, don't touch the bikes unless you are asked to help. If you visit make sure you don't get in the way. The riders do appreciate your support but they have to focus on what they are doing so please keep that in mind.
After a successful weekend of racing at the Island Classic at Phillip Island the bike was transported to John Chambers's workshop awaiting Nick McGinn's attention as the new maintenance person when the bike is in Victoria. Nick wasted no time in servicing the bike and reported a few things to fix. Firstly one of the carburettor manifolds was found to be cracked and will need to be replaced, Ivan went to Gowanloch's and bought some Del Orto (Malossi) manifold rubbers to replace to torn Mikuni manifolds. Nick has offered to make some alloy manifolds to fit the new tubes which connect the carburettors to the manifolds and have a filler to make the transition smooth from venturi to port.
Gowanlochs supplied replacement manifolds.

Nick reported no free play in the clutch when checked which may be due to normal wear and tear. As reported in the last newsletter the club racer needs a new brake master cylinder to correct the feel of the brakes with the new Brembo calipres. We now need a master cylinder with a 16mm bore and John Chambers has now received one from Ivan Hoey who had one to spare. Thanks to Geoff's XS for supplying Ivan with another spare.

Nick found the left rotor had 8 thou of run out and the right had 11 thou of run out even after Ivan took most of the wobble out when he had the bike at Christmas. Nick has now fixed this problem. He also replaced the stainless steel bolts on the RHS rotor with the proper bolts.
Nick made up some new inlet manifold spigots to mount the carbs incorporating the spacers previously used to increase the length of the inlets to nullify the effect of reversion.
Here is the reason we change the oil and check the filters after every race meeting, check out the crap in the side filter screen!
Nick has rechecked the disc rotors after refacing the carriers and the run out is now .002 of an inch on each rotor.
He also noticed the bracket on the left fork leg had been welded on crooked and has now shimmed the calipre to compensate. We will need to replace this fork leg and weld on another bracket to rectify this problem at some time in the future. Anyone got a spare left 35mm fork slider they want to donate? Thanks Nick for your time and effort, great job. Tyre warmers have now been bought for the race kit by Ivan Hoey.