First round of the PCRA championship for 2015 was held at Wakefield on the 7th of February and Ivan Hoey was there to contest the event as defending champion for P4 750cc. Ivan also contested P4 unlimited class and got first place in each category. Well done Ivan, great way to start the season. - 7/2/15
Thanks to Ivan and Ray Oxford for the pictures.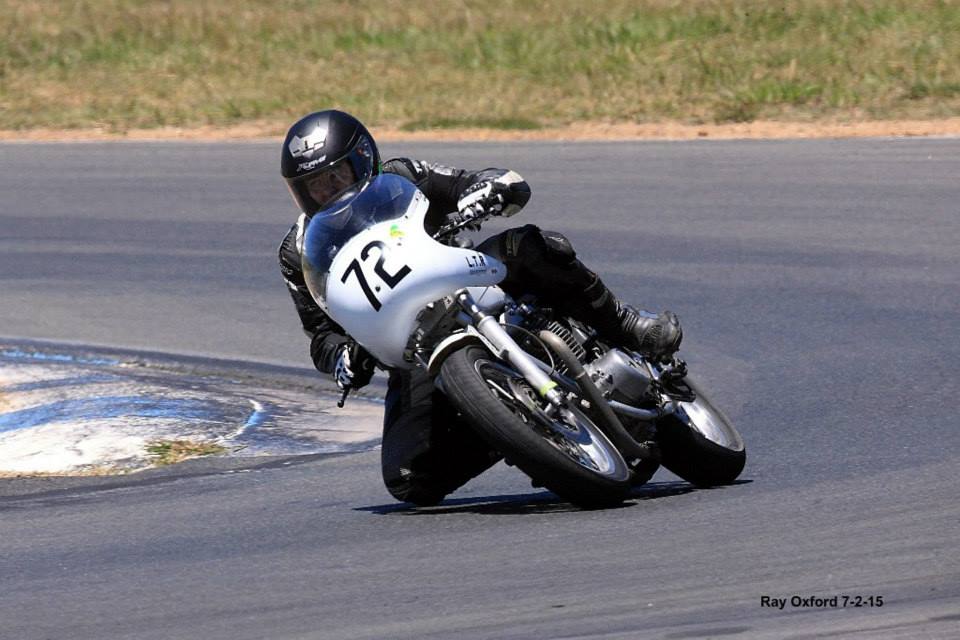 Sydney Motorsport Park 2015 PCRA round 2
Ivan Hoey has taken the double in round 2 of the PCRA championship. The meeting was held on Saturday the 30 May and Ivan made a great comeback after his less than successful Victorian Road Race Championship at Broadford last month where he crashed his XS650 racer.
Ivan's bike sporting a new fairing and screen and Ivan with a new helmet.
Ivan finished in first place in both the P4 Unlimited and P4 750 class.

Eastern Creek PCRA Round 3
Eastern Creek raceway hosted the third round of the championship on the 13/6/2015 and Ivan Hoey was there to defend his title in two classes, P4 750 and P4 unlimited, he won the P4 750 class and finished second in the P4 unlimited.
Displaying his two trophies.
During the course of the day Ivan managed to put in his best lap time of 1:53 to the detriment of his rear tyre shown below. That is a personal best on this bike and a great achievement, well done Ivan.

Winton Classic Weekend 2015
New member Stacey Heaney also raced last weekend at Winton riding fellow club member Rob McKie's XS650 racer and got second place consistently over the May 30-31 weekend according to Natsoft race results.

Naracoorte Sidecar Spectacular 2015
Matt Moloney and Ben Gerrits win pre 85 sidecar cross on his rephased 953cc EML sidecar. Well done Matt.

Victorian Road Race Titles Results.
In the Unlimited Post Classic class Stacey Heaney finishing fourth riding Rob McKie's XS racer and Ivan Hoey managed to finish seventh overall at the weekend after his crash in qualifying and a DNF in race 4. Kevin Palmer was there and has promised some pics when I catch up with him later in the week.
Race
Race
Race
Race
Pos
Name
1
2
3
4
Total
1
Simon COOK (SA)
25
25
20
25
95
2
Kelton CHEESEMAN (VIC)
20
20
25
20
85
3
Eric GIGGINS (VIC)
18
18
18
18
72
4
Stacey HEANEY (VIC)
16
15
17
17
65
5
Mick GALLEY (VIC)
14
14
15
16
59
6
Darren TINDALE (QLD)
17
17
14
0
48
7
Ivan HOEY (NSW)
15
16
16
0
47
8
Des HEANEY (VIC)
0
13
0
0
13
9
Doug AITCHISON (QLD)
13
0
0
0
13

Natsoft Results
Race bike committee member Stacey Heaney at the Victorian road race titles at Broadford 2015 where she finished fourth in P4 unlimited riding Robert McKie's xs650 racer pictured above.
After his accident and a DNF on Sunday Ivan could only manage a seventh place. Here you can see the bike without a screen and carrying a few scratches and Ivan feeling a bit second hand so he did well to keep going.

Ivan's Crash at Broadford
Saturday 11/4/15 Victorian Road Race Titles Broadford Victoria.
It is often said that racers have either crashed or are about to crash, well Ivan Hoey has had his crash at Broadford this weekend. Thankfully he is ok and the bike, although a little worse the wear, is ready to go again.
Here it is all busted up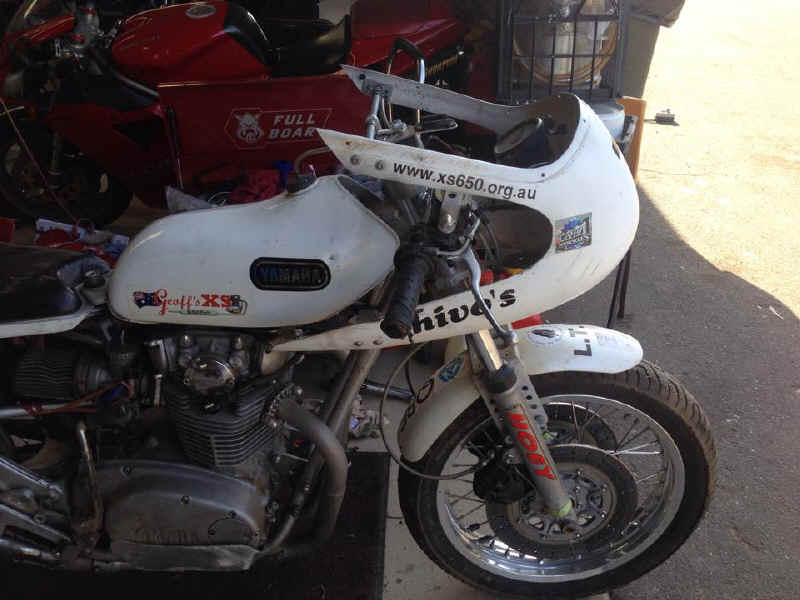 And here with the handle bar and lever replaced and the busted screen removed it's ready to go again. After a visit to the medical centre Ivan was given the all clear to continue racing, Here's hoping his luck holds for the big race tomorrow.

Barry Sheene Festival of Speed
The BSFOS was on last weekend and our man Ivan did kick some butt by winning the P4 750 class.
He got the trophy to prove it, well done Ivan.
For those who went along to watch the BSFOS Ivan had 10 free tickets but only two club members contacted him prior to the event so they went begging. I guess that's the way it goes when you ask for volunteers.
Thanks to Herb Conlon and Mark Peatman who did volunteer.