Penrite Broadford Bike Bonanza
Following the Barry Sheene Festival of Speed was the Penrite Bike Bonanza at Broadford. Several of our members attended and took to the track. Ivan Hoey was there as was Rod Watts and Stacey Heaney and I am sure many more were there to watch like me.
Laurie Zinesco riding Ivan's 7 bike and his own 99
Ivan complained of a deflating front tyre after his first few laps of the dirt track and later went to the road race circuit to give the club racer a try out as he hadn't ridden it since the new motor was fitted. His verdict, it goes good.
Here is Rod helping out with his old bike now owned by Laurie Zinesco and being cheered on by Patrick Balk who is Rod's sidecar passenger on the 533 outfit parked behind them.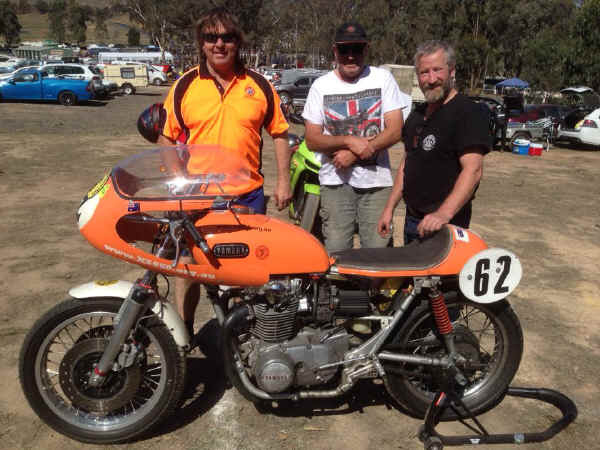 Ivan Hoey, Des Heaney and John Chambers at the Broadford track on Sunday.
After some additional oil and a couple of extra turns on the gold valves and the front forks are ready to go. Steering head bearings tightened and Stacey declared the bike is all set for next weeks Victorian Historic Road Race Titles to be held at Broadford. Thanks also to Frank Meade for his generous donation paid to Ivan. This will pay for the 36 tooth alloy rear sprocket we recently bought for the club racer.
It's ready to go and so is Stacey, she's looking forward to the Vic titles next week.