2018 Festival of Speed
The Festival of Speed was run last weekend 23rd -25th March with Ivan Hoey and Steve Hobbs there to represent the club.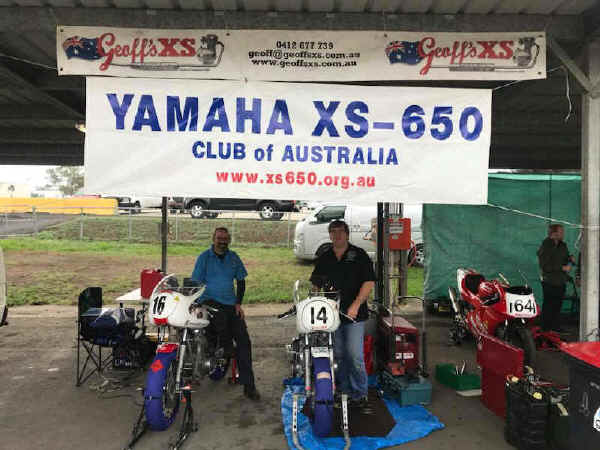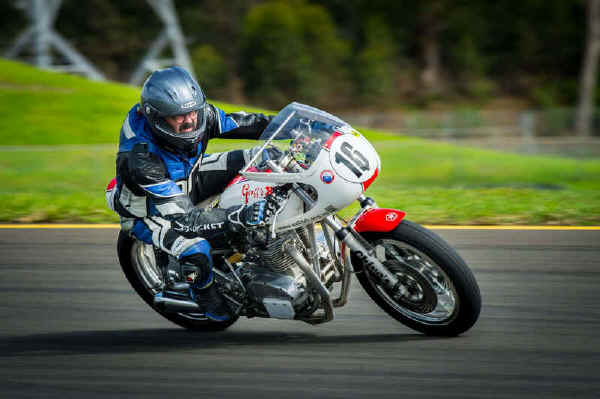 Needless to say Hobbsy had a ball.

Victorian Road Race Titles 2018
The Victorian Road Race Titles were run at the weekend of April 7th & 8th at Broadford and Stacey was there with our club racer and managed to get a podium finish with a third place in
P4 unlimited, well done Stacey.
Race Report from Stacey on Vic Titles 2018
Hi XS club just a report from the VIC titles for the newsletter.
The Victorian championship was run over 7th and 8th at the Broadford circuit which I had entered p4 unlimited (club bike), p3 unlimited (650cc royal Enfield/ Triumph) and p5 250cc (Yamaha RDLC). Bright and sunny weekend meant fast lap times and good racing.
Qualifying 1 went well with lap times equalling that of end of weekend times I have done in the past.
Qualifying 2 the bike suddenly lost power "oh crap" after a quick inspection and over the phone trouble shoot with Ivan Hoey, it was found that the wire linking the kill switch to the warning light was shorting out.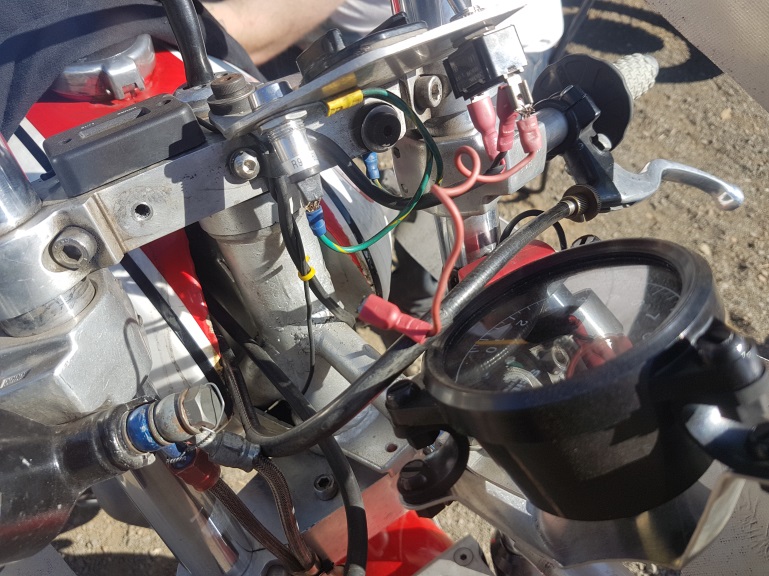 Qualifying result was 15th on the grid, bring it on!
Race one the bike ran like a trooper coming in 2nd with a few good dices with the p5 unlimited boys.

Race two the bike came in 3rd after a few false neutrals making some fun moments into turn one as I was looking for that gear I needed. Quick inspection of bike and the gear shifter had rattled loose. Easy fix.

Day two class is picking up speed; bike is slightly over geared but still workable around the circuit. Overall for the weekend the XS club Australia bike come in 3rd place in a tuff class. Amazing weekend with all 3 bikes raced over the weekend finishing in one piece barely needing a bolt tightened. (Iím buying a lotto ticket what are the chances)

A big thank you goes to the club and their sponsors and also to the club members who dropped in and gave us a hand over the weekend.


Stacey Heaney #162
Great effort, third place in P4 unlimited, well done Stace Ė Ed


PCRA round 4

Ivan Hoey contested the fourth round of the PCRA championship last weekend with mixed fortunes. In the first qualifying session he placed first in P4 750cc and in the first race of the day R1 he finished first in P4 750 on a wet track with a fastest time of 2:29.6540
Next race was R6 in P4 unlimited and Ivan managed a nineteenth place overall but a first place in P4 unlimited and a fastest lap of 2:02.0570 on a drying but overcast track.
In the next race R8 for P4 750 Ivan again finished first with a best lap of 1:57.2710.
In the second race for P4 unlimited R13 Ivan again finished first with a best time of 1:58.9040
In the third race R15 for P4 750 Ivan did a best time of 1:59.2460 in first place and in doing so clinched the points for first place in P4 750 class.
In his final race of the day R20 for P4 unlimited Ivan got a DNF when the oil line to the top of his motor fractured allowing oil to escape from the motor causing him to pull out of the race for safety reasons.
Results for the days racing:-
P4 750 Ivan Hoey 75 points first place.
P4 unlimited Ivan Hoey 50 points first place.
Well done Ivan, we hope you get your racer fixed up and ready for the next PCRA round 5 on the 7th of October at the Eastern Creek GP Circuit.

Australian His
toric Road Race Titles Broadford Victoria 2018
The Australian Historic road race titles were run at Broadford in Victoria on the weekend of the 9 Ė 11 November 2018.
Two of our club members were in attendance on several different bikes but the ones we are most interested in are the racing XS650 Yamahas of firstly our club in the hands of Stacey Heaney and secondly our favourite son and life member Ivan Hoey with his fantastic XS650 racer.
Hereís Stacey getting ready for qualifying on Friday.
On Saturday the racing started with Race 6 for P4 750cc with both our members up against each other in Leg 1 with Ivan taking the lead with a fastest time of 1:10.616 on lap 3 and Stacey close behind with a fastest lap of 1:10.962 which she achieved on lap 2. For those among us with poor mathematical skills thatís a difference of just .346 of a second. Ivan got a 3rd place and Stacey finished in 4th place in this leg.
Ivanís bike in the pits before qualifying on Friday.
Stacey being the lucky girl she is, also got to ride Ken Lucasís Matchless G50 over the weekend with a Leg 1 time of 1:16.517 on lap 5 she subsequently got these times in Leg 2 1:14.990 lap 4 and in Leg 3 1:13.984 lap 3 finally in Leg 4 114.622 lap 2. Finished overall in 6th place in P3 500cc. Great work on a bike she had never previously ridden.
Back to the Yamaha XS650ís Period 4 750cc:-
Leg 2 Race 18 Stacey Heaney..1:10.756 on lap 3, 3rd place. Leg 3 Race 30 Stacey Heaney..1:10.400 on lap 2, 3rd place.
Leg 4 Race 42 Stacey Heaney..1:11.665 on lap 4, 3rd place. The result being Ivan finished the weekend early with a broken oil feed line he could not safely fix so he went home and Stacey finished the weekend in overall 3rd place on the club racer in the P4 750cc Class.
Next time out at the track will be the Island Classic in January.
May also be at the Geelong sprints in November.
Check the Calendar page on our website for updates.

Geelong Revival 2018

The Geelong Revival was run again this year along Richie Boulevard next to Corio Bay and Stacey Heaney was there this year with our club racer.

Stacey as usual acquitted herself well with a first place trophy in P4 700cc class

PCRA Round 6
Ivan Hoey contested the last round of the PCRA championship at Wakefield Park even though he had already amassed enough points to take the title.
He still collected the trophies even though his bike failed to finish the last race of the weekend. Congratulations Ivan on a fabulous season and titles in two PCRA classes, p4 unlimited and p4 750cc.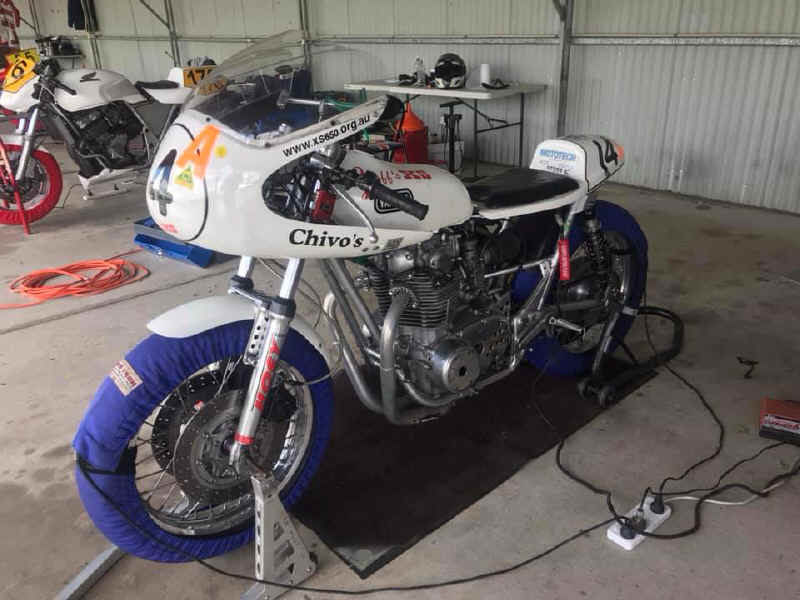 PCRA 2018 Titles
The results for season 2018 are in and Ivan is PCRA Champion for both Period 4 750cc and unlimited classes, very well done Ivan.
These are the fifth pair of titles Ivan has won in a row, an achievement only replicated by the great Michael Doohan.
Magnificent achievement Ivan.