2010

On Ausust 15th 2010 we visited C&M to see how our bikes were running and were surprised by the results.
Mike Fitzpatrick's immaculate XS650C Dave Rayner's radical XS
Andrew Gunn's TXA, the eventual winner of the stockers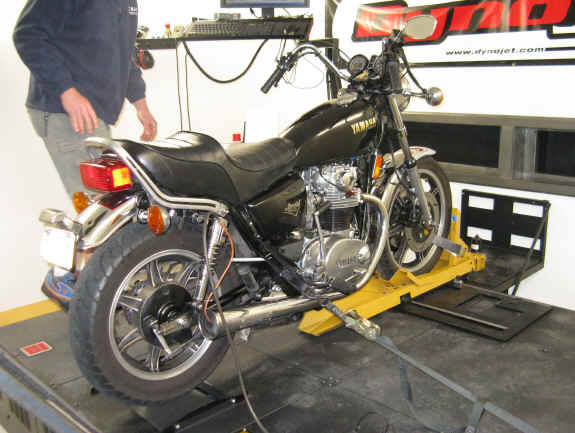 Bill Wallis's and Andrew Iggo's bikes on the dyno getting ready for a run.
Many of the bikes falling far short of their owners imagined horse power figures, which goes to you how hard it is to make more horsepower, with Andrew Gunn's TXA having the best HP of the stock bikes. Ivan's racer won the ultimate horsepower title.

2012
We returned again in 2012

The XS650 Club Dyno Day at C&M on 29th of April 2012 was a success with ten members turning up for a look and seven of those putting their bikes on the dyno for a run. Because of the early start Ivan had breakfast ready for those who turned up on time at 8.30am and everyone enjoyed watching the other bikes get tested for bragging rights with the highest HP recorded and the winner was 47 HP. Bragging rights go to Max Evans and he also received a bottle of bourbon donated by Herb Conlon for winning.
All those in attendance except Ivan taking the pics. Max with his prize.
Herb's P4 racer
Bill Wallis' bike
Mark Azzapardi's bike
Bill Wallis' bike
Andrew Iggo's bike
Dyno day organiser Ivan Hoey and his flat tracker
Rodney Johnson's bike