I first met Kevin after he called me and asked if I would go with him to see a local engineering firm and explain to them about rephasing.
I subsequently went with him to visit Lange Engineering in Geelong to speak with Robert Lange the business owner about how we intended to rephase the Yamaha XS650 motor. At the time Kevin had commissioned them to make a stroker crank for his proposed missile and after joining the club and reading about rephasing he decided that this was something he really wanted to do. By now you might get be getting an inkling of what Kevin is like, if he wants to do something, he does it.
One part of the stroked crank

Kev's bike started out as a XS650B that was previously owned by his father. Since taking ownership he has completely stripped the bike and has some huge plans for its rebuild. For starters he is building his own frame and fibre glass tank. He's already had the crank stroked 5mm and plans to rephase it using a shaft he had made at Lange Engineering in Geelong. He is also using 140mm Carrillo rods in the rebuild and custom made pistons to avoid having to use a spacer under the barrels. The front end is RGV Suzuki and custom triple clamps he made himself. Swingarm is alloy (I can't remember what off) and mono shock. Carb's at the moment are 34mm Lectrons but Kev thinks they may be too small and has now decided to fuel inject and turbocharge the bike. Kevin's Egli style frame is work of art, all the tubing is polished before bending in his home made tube bender, all the brackets are also highly polished and look like they're already chromed. The whole thing is being pieced together on his home made jig and then will be professionally TIG welded and finally plated.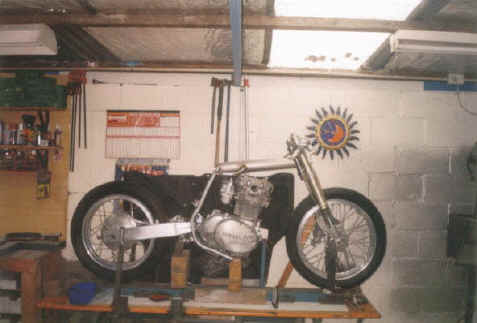 Here are the latest pics of Kev's frame, all jigged up and ready for welding. As you can see the frame is upside down in the jig and there are some extra pipes to help with rigidity. Kev plans to put the hole lot, jig included, through an oven to stress relieve it after welding. Seat mount is yet to be added and it will be a bolt on extra as will the front down tubes.
Latest pics
Kevin has now completed the frame and it weighs in at 9 kilograms bare. He has now started on the seat and tank, the tank will be made of Kevlar. The motor has had a window machined in the right case and will be covered in perspex so the clutch can be seen when riding. Work has started on the four valve head and a craftwood mockup can be seen in photo above as can one of the fuel injection throttle bodies. A lot of welding has been done around the crank case barrel opening to strengthen it and make adjustments for the custom barrels and head. Should be an interesting ride when finished don't you think with 90° rephase, big bore, stroked, long Carrillo rods, custom made pistons, custom cam, fuel injected, intercooled and turbocharged. Jeez I pity those poor tyres.
UPDATE
Kevin has now bought a large lump of alloy for the head which is now being machined for the valve guides and cam tunnel and he has also made some rear set footpegs for the custom frame. Web Cams in the US has completed the cam for the motor and the turbo has been sourced and will be a small roller bearing type necessary because of the low pressure oiling system that the XS uses. Kev is also going to fit one of Mikes' XS high volume oil pumps. The crankcases have been bored out to suit the large sleeves needed for the 840cc kit and the custom barrels will be next on the agenda as work proceeds on this very special XS.
UPDATE (22/8/06)
As you can see time has marched on and Kevin's bike has progressed to the next stage, he has started making a seat and tank for the now completed frame. He has also bought a turbo and decided where to mount it. He is still waiting for work to commence on the barrels, four valve head and rocker box.
In the meantime he will use the craft wood mock ups to make all the plumbing for the turbocharger and fuel injection.
Kev has also made some adjustable rearsets and mounted them on the frame so he can try it for size. Although it seems to be taking forever to build just remember what it is Kevin is trying to achieve here, this is a monumental task and will be well worth the wait.
Update (11/11/06)
I called in to see Kevin yesterday to say g'day and check on his progress. As usual he had something to show me, this time it was his alloy billet barrels and sleeves and his new discs from an FZR1000 Yamaha.
As you can see he still has a way to go with the barrels with lots of work to be done on his milling machine cutting all the fins. The sleeves are aluminium alloy (T60 something) and will be Nicosil coated when finished. This should dissipate heat better than the stock barrels and be best for the turbo'd motor.
Kevin chose the FZR1000 discs because as you can see the bolt pattern is the same as the XS front hub and it is a better and more modern floating type disc. There will two of them on the front ant another on the back, should stop alright!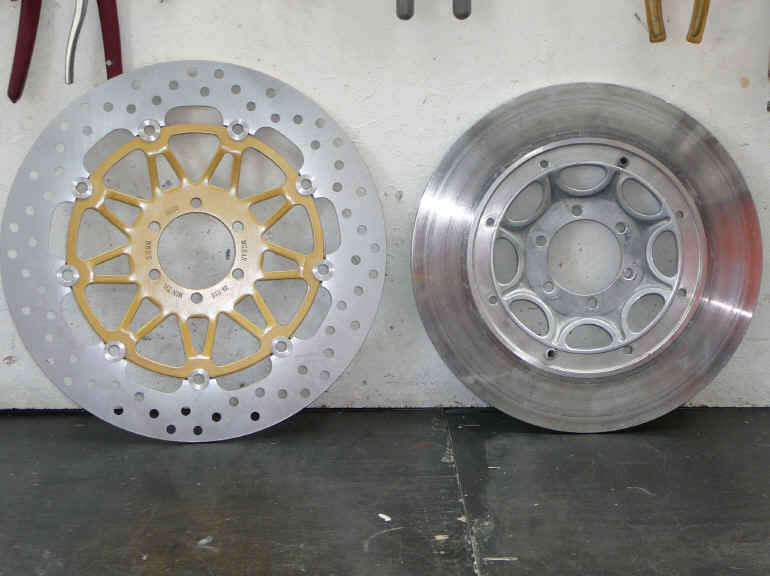 Only one fitted to the bike so far for mockup and it will have some new billet calipers as well.
I forgot to mention earlier that the port design for the four valve head has been modelled on the Mitsubishi Evo head, this is a proven turbo engine with many wins in racing around the world and should work extremely well on this motor. Kevin has also ordered a set of Ivan's high ratio primary gears for this motor. Electronics will be handled by a Motec M4 ECU and should be more than capable of doing what is needed to make this a first class performance machine capable of speeds previously unheard of for an XS650 based bike. Maybe a world speed record is a possibility for a vertical twin and by one of our members, now there's a thought. Move over Burt Munro!
27/12/06
I called in to see Kevin over Christmas and check out his progress, I wanted to use his TIG welder as well, and he was busy milling some fins on his billet barrels.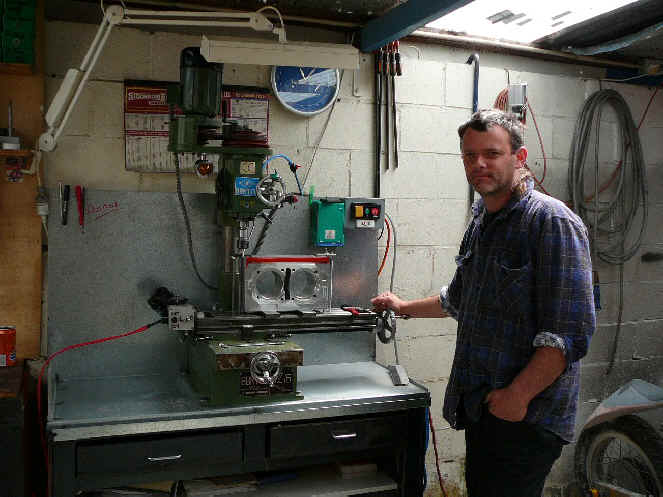 It's a big job and will take weeks of work but they will look fantastic when he's finished
All the fins are now cut, just the final shaping to go.
The exhaust has been started, note pipes for outlet and wastegate.
Update 26/5/07
Here is the finished barrels complete with Alloy cylinder liners ready to be bored to size and nickasil coated.
They look pretty spectacular don't they, cant wait to see the 4-valve head when it's finished.
Kevin Palmer and Ivan Hoey have been putting their heads together about a possible venture to Lake Gairdner (Australia's Bonneville) with their bikes to see if they can secure a speed record with their XS's. It would be quite an achievement if we had two record holders in the club now wouldn't it. (Look out Burt Munro)
30/10/07
Today I paid Kevin another visit to catch up on what he's been doing and took a few more pics so you can all have a look.
He now has plans to build his own six speed gearbox for his bike and has already been experimenting with mild steel mock-ups to see if it will all go together as planned.
During the week he also took delivery of his pistons for the bike from Ross pistons in the USA. These have been anodized and Teflon coated as well as having the crowns ceramic coated, all necessary stuff if they are to live in a turbocharged motor.
He has also been busy making small parts for the bike, like cam chain adjusters and intercoolers and plenum chambers, you know the kind of stuff we all mess about with in our sheds (yeah right)
Here's the intercooler and blow off valve. A small electric pump will circulate water through a remotely mounted radiator under the seat to the bearing housing on the turbo and the intercooler to keep it all cool.
Kevin has also modified the rear swing arm with axle adjuster blocks welded on for extra length, this may very well be necessary to keep the front end down under boost!!!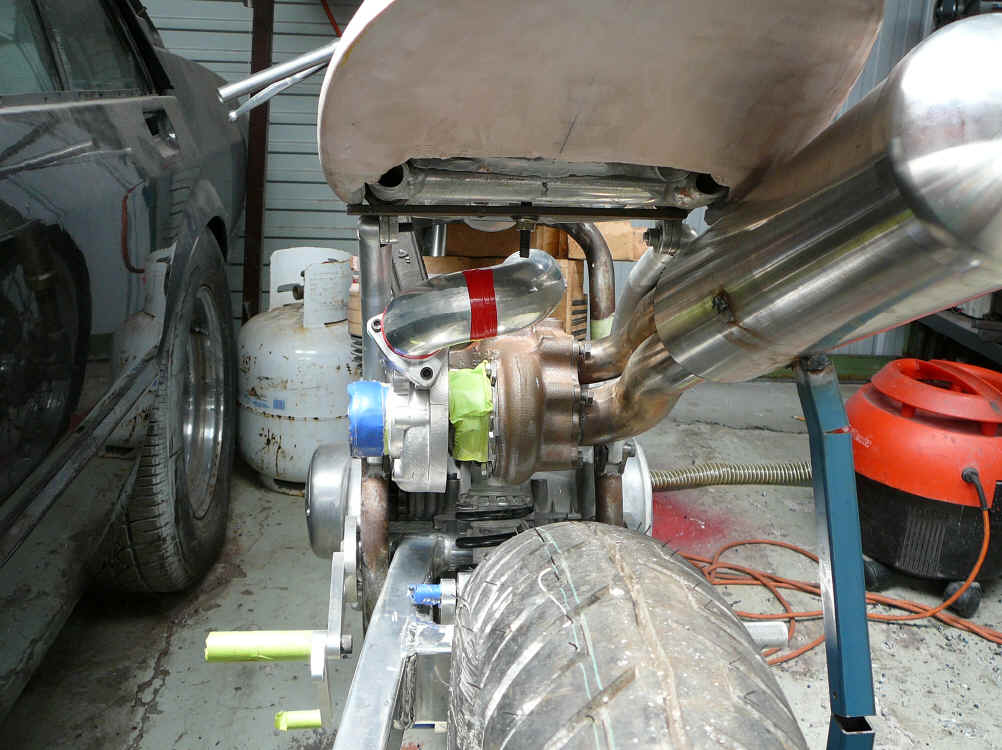 Here you can see the output pipe from the turbocharger bending to where the intercooler will be mounted.
A plenum chamber will bolt onto the throttle bodies of the fuel injection and the output from the intercooler will feed into the plenum chamber, the blow off valve location is yet to be decided but will be somewhere on the inlet side of the intercooler and will be vented to the atmosphere.
9/1/08
Intercooler and Plenum chamber now finished. This is roughly how they will be situated under the tank and seat. Plenum chamber was hand formed by kev and took a lot of effort and time to get it just right. There is still a few items to fit in there like fuel pump and pressure regulator and pop off valve, also a radiator and pump for the water to cool the intercooler and turbo bearing housing and battery and engine management system. A bit of a nightmare there Kev but I'm sure you'll work it all out.
Kev has just bought a new set of front forks for the beast, '07 Yamaha R1 with six piston calipers, these forks are adjustable for compression and rebound and anything else that might need adjusting!
Update (2/4/08)
I visited Kev's place today and he has been busy making the hubs for his bike, check these out!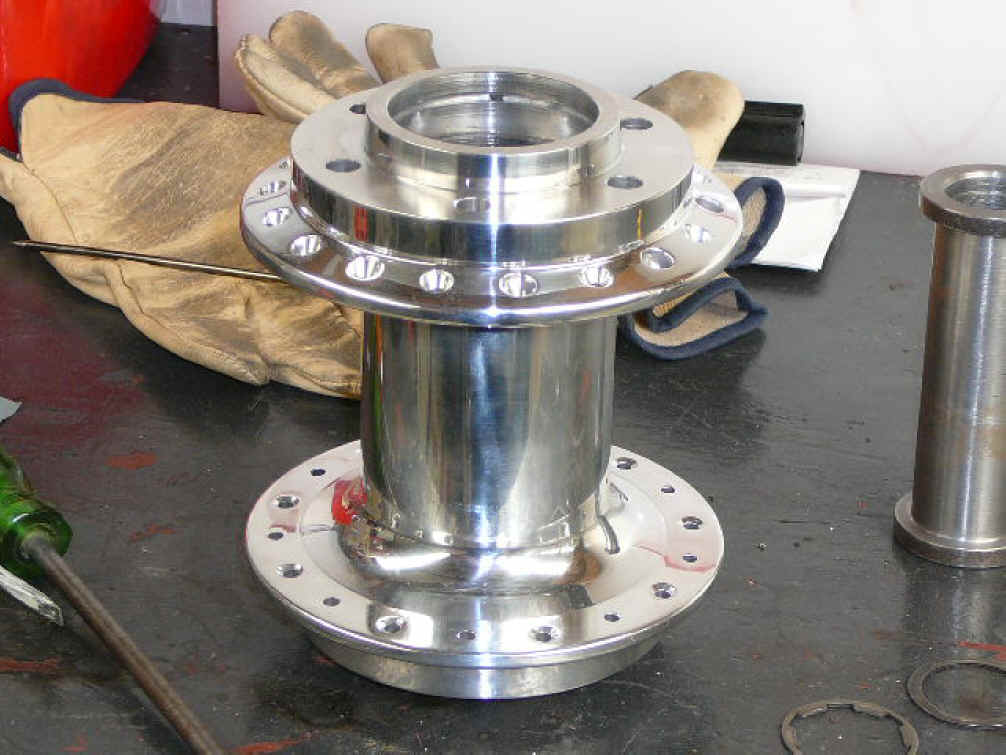 Here is the front hub
and here is the rear.
Take it from me the pictures do not do them justice, they are beautiful. I can't wait to see them laced up to the polished alloy rims he has bought, the rims are away being polished as we speak.
I called into Kev's today and took a few more shots. He has just finished lacing up the back wheel.
Sorry for the not so good pics, I forgot my camera and had to use the phone.
Update 29/7/08
Kevin has now decided to build a high output permanent magnet alternator. This is because the stock alternator is too feeble to supply the many electrical components that will be fitted to Kev's bike. he will need about 400w capacity to run the fuel pump and water pump to circulate water through his intercooler and turbo bearing housing as well as everything else normally powered by electricity on a bike.
What Kevin has done is to pull the guts out of a Holden alternator and open up the stock alternator housing so the stator windings from the car alternator will fit inside. His next step was to make his own permanent magnet rotor.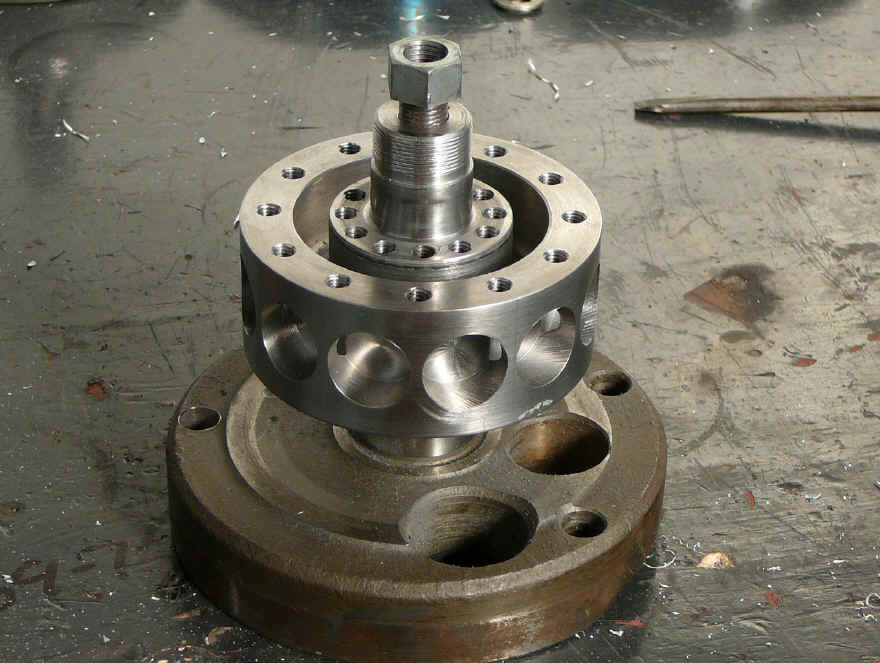 Kevin has used rare earth magnets which are extremely strong, believe me, you don't want to get your finger between these babies when they get attracted to each other. Anyway, as you see from the pic Kevin has done his usual job on making this rotor.
The rotor was designed to be the same diameter and segment spacing as the original car rotor and the magnets have been placed in an alternating north then south pole configuration to produce an alternating current (AC) three phase output.
The outside of the rotor will be used to mount the chopper plates for the fuel injection and ignition and all this fits behind the stock cover!
This set-up should pump out 35 Amps all day so Kev is using a high amp regulator with thermal protection for a Harley.
Kev has also been busy re-polishing his rims and hubs after drilling and assembly to make sure all is well. They got some small scratches during the process so now need to be re-polished and finally assembled.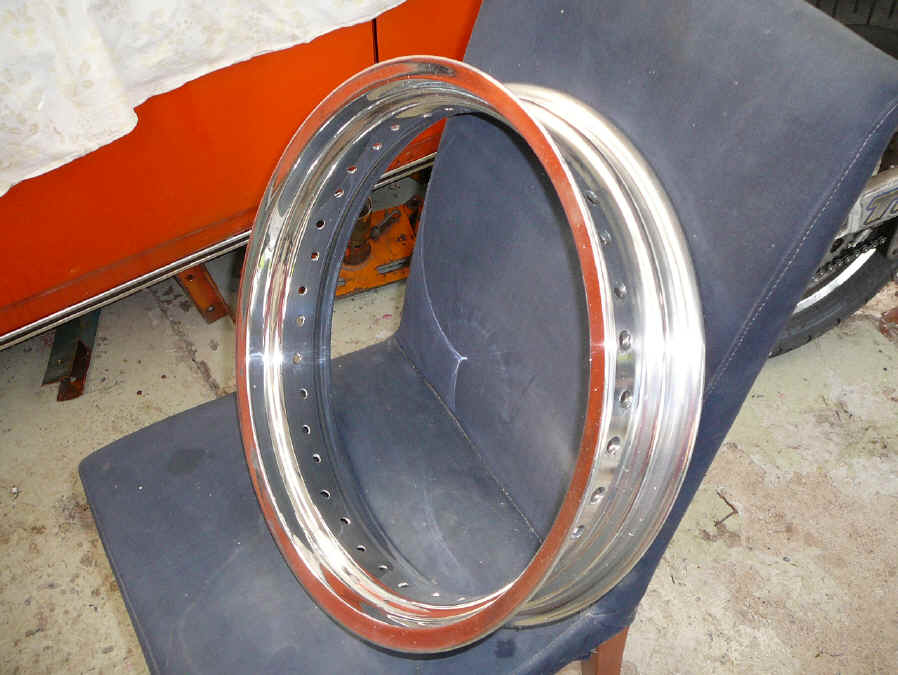 Kev has also had his blank gears for his six speed gearbox internally splined so now he can go ahead and cut them.
Front wheel all polished and laced up and fitted to the R1 front end.
New triple trees to suit the R1 front forks.
Kevin has been making some spacers for his front and back wheels
Here's a pic of his trick clutch pressure plate with centrifical force assistance.
Kev's latest job is to start making his six speed gearbox.
Here's the blank gear set up in the milling machine between the dividing head and live centre ready for cutting.
One down eleven to go.
Kevin has also nearly finished the muffler for the turbo, should flow ok!
A bit of a tight squeeze under the seat but the intercooler and plenum chamber fit up to the throttle bodies ok.
There's a blow off valve under there too some where but it's hard to see from this angle.
Update 4/4/09
Kev has been busy for while now making gears for his gearbox but managed to find some time to get his wheels laced up for the final time and have some tyres fitted.
Update 2/11/2014
It's been quite a while since I last took a look at Kevin's wonderful Turbo XS. By his own admission he has been busy with other projects for a while but now it's time to get the turbo bike back on track. Lately he has been cutting gears for the re-designed 5 speed box he now wants to create, originally it was going to be a six speed.
After making the correct tooling for the job here is one of the gears being cut on Kevin's Milling machine.
Here are some already cut awaiting a final polish, there is also a new main shaft for the gearbox with 19 teeth.
The new pressure plate for the clutch is finished.
Billet clutch basket and Kevlar friction plates ready for installation.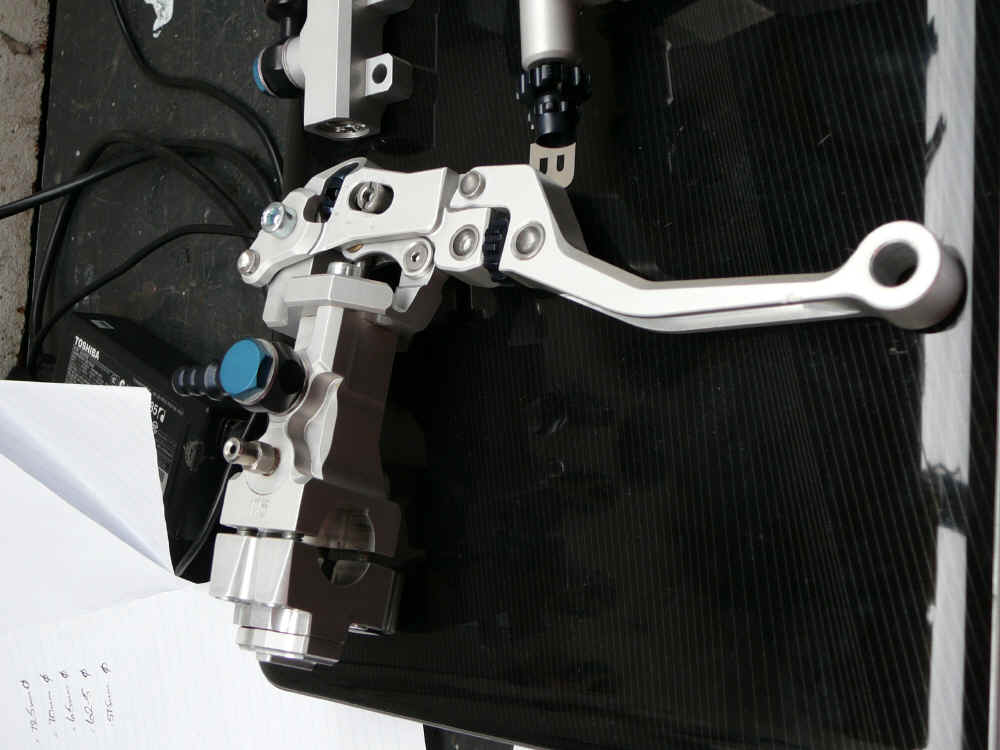 Other parts purchased for this project include the adjustable clutch and brake levers.
Kevin is also busy on a second project, a 1973 TX650 which he bought some time ago. He has already done some significant work to the bike as can be seen in the following pictures.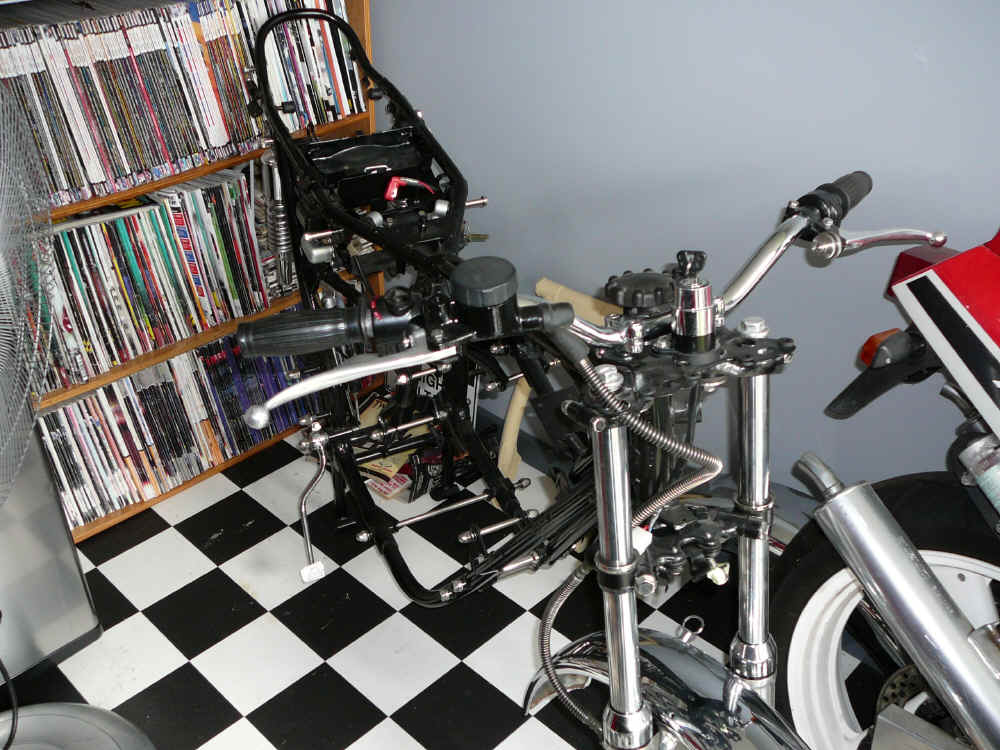 As you can see the front end is all but completed as well as the frame which has been painted.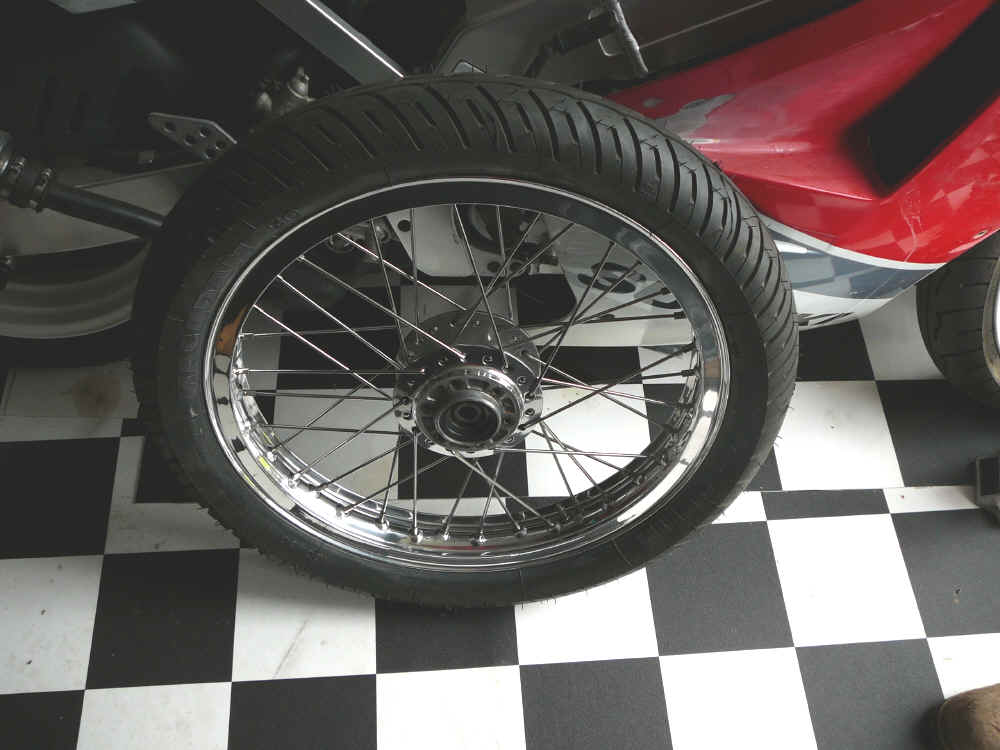 Front wheel has been rebuilt with polished rim and new spokes.
closer look at the front end.
Parked next to the TX in the back room is another of Kev's passions, the RGV Suzuki.
Update 13/12/14
Called into Kev's today and took some picks of where he is up to now with his gearbox for the turbo bike and he told me he has finished cutting the gears and is now cutting the splines on the shafts.
Kevin's mill is set up to do horizontal cutting with the rotating tool cutting the splines on the shafts.
Here is the gearbox laid out with the shafts made but not yet splined.
more to come.......

Last updated 14/12/2014