Water Cooled XS
DOHC XS
Racers tried all sorts of modifications to gain a winning edge.

Twin Engined XS Dragster
Bill Wallis sent these pics to me of this twin engined dragster but that's all I know about it at the moment.

Supercharged XS
Wayne Kennedy found this little gem somewhere in Gippsland. Supercharged and fuel injected XS650. It has a Kawasaki KLX250 swing arm that he said fitted straight in with no mods at all and is currently running about 4Lb boost.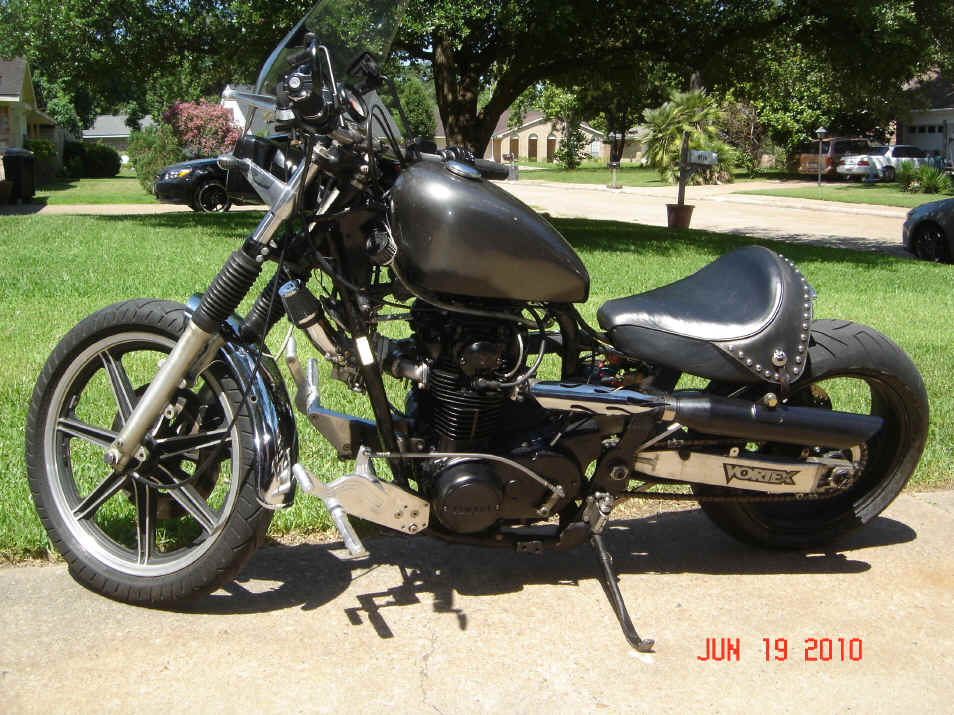 Terry,
I really love reading about your Club Racer. Y'all have put a lot of great work into it.
I'm really interested in the head porting that your doing. I hope you publish the details when its all done.
I did a slight port and polish to my Bobber, I did open up the intake bore to 1.5" to match the intake and carb I used.
It was fun re-engeneering the top end to run the head backwards, with the crank pin I got from Ivan I did a rephase and the 750 kit and hot cam from Mikes, Bob really runs well and is so much fun to ride through the hills and twistees.
Is there anything that I can do to help support the Club Racer? Let me know.
Thanks to you and all your club members for the great 650 spirit y'all have.
Id love to come over and visit sometime.
Andy Wolfskill
Before and after shots of Andy's unusual reversed head bobber
How To Flip Your Head ( without a pain in the neck )
There's basically two ways to be able to run your intake in the front and exhaust in the rear.
One way is to have a custom ground cam with four new lobes that open and close the opposite valves at the right time.
If I had a cam grinding machine I might experiment with that a bit, but I don't.
The other way is to flip the rocker arms to the opposite cam lobes.
To do this I built me a fixturing jig to hold the rockers, cut them and weld them in the new location.
I then needed to install oil delivery tubes to the rockers to oil the cam lobes.
The next thing you need to do is modify the head at the head gasket sealing area.
I welded a ¼" thick aluminium plate to the front and back of the head to fill in for the gasket, had the head machined flat and drilled a bolt hole.
Install the head backwards with a new head gasket, cam goes in the normal way with the threaded end to the right.
Install rocker arms in top cover the same way as normal.
Put the top cover on and torque the head.
I needed to drill and tap two mounting holes to mount my ignition plate on the left side.
I took an 1/8" plate to cover the breather opening to have clearance for the main oil tube.
A little grinding on the front of the head where the rear bolt use to go through will give you enough clearance for the tube.
I took the rocker inspection cover with the four bolts, drilled a 3/8" hole near the top and bolted in a hose barb for my crankcase vent.
There's lots of options for intake and exhaust . I had to use a jack to give me a little more room through my front frame.
That's how I did it,
Andy Wolfskill

Hello,

I'm Renaat Souvagie, 17YO, and I live in Belgium.
I might have something for you to put in "unusual XS's.
This is my homemade kart, with an XS 400 engine. I've bought this engine for 150€...
I worked about 7 months on this kart, and still, it is not ready yet. I have to paint it, and do some electronics for the lights, horn,...
But it does ride, about 130km/h, which is very cool when there is only 4cm between the road and your bottom :)
http://www.youtube.com/watch?v=GIpySfoKKzo
If you're interested, let me know, and I'll send you some more specs and pics...
Greetings,
Renaat
irenaatsouvagie@hotmail.com

A Real Chopper
Listed on ebay in the USA this XS650 powered helicopter.
Adams-Wilson "Choppy" single seat helicopter. Powered by an Yamaha 650CC Parallel twin motor that runs very well. Comes with a complete set of original plans, and original receipts. Main rotor blades and tail rotor blades are in good shape. Cosmetically, the paint is in good shape and there are only minor blemishes. The aircraft is complete and only needs to be gone over and fine tuned to include main rotor tracking and adjusting the tail rotor pitch. The helicopter has been ground run, but not flown by the current owner. NOTE: This is a real helicopter! If you are not trained, DO NOT try and fly this thing because you have the potential to kill yourself or others. If you go to vortech.com you will see that the basic kit for this helicopter is over $23,000. Call Mike @ (406) 453-8451

Just saw this on the web and had to have it! A trike for a leprechaun!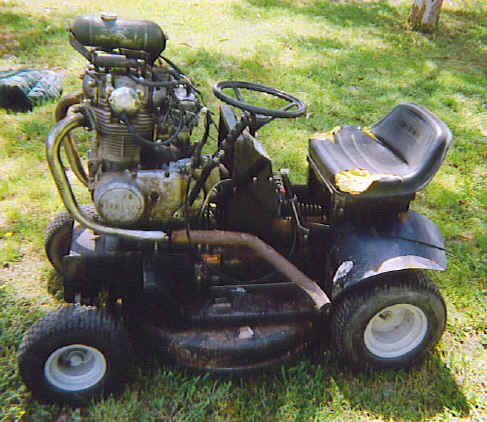 Our own Colin Carey's mower, the grass don't stand a chance!

What about a XS650 Tractor, I found this pic on Bob Bertaut's website.


Turbo charged XS650 engined sand rail.


Worlds ugliest XS650 Rat Bike


This Go Cart might be a bit too quick for the kids and a bit too loud for the neighbours!


How about the worlds fastest XS650


Here's an unusual use for our beloved XS650 engine, looks like it belongs in Robot Wars, should call it Buzz saw!

Bob Bertaut never quits, here's his latest project the XSR1. To keep an eye on his progress check out http://www.650motorcycles.com/XSR1.html

If you have any oddball pics of XS650's, send 'em in and I'll stick 'em in here for everyone to see.

03 November, 2014