Glen Voice's Tracker, Göran Perrson's Project, Terry Gliddon's Tracker & Bob Bolton's Resto.
Like lots of XS owners, I have been fascinated with flat track racing and the bikes that make it such a wild sport. Websites like 650central are full of inspiration and after looking at lots of other people's bikes I decided to do my own.
· Stacks of low end torque
· Ground clearance, brakes and suspension that would allow the bike to be thrown around the Great Ocean Road (very close to my house)
· Fun to road ride for reasonable length of time
· Enough noise to set off car alarms at wide open throttle
The goal is to do as much as I can myself, and pay someone to do the critical welding, frame painting and wheel building.
I started with a 447 engine I was originally building for drag racing. The current spec is shown below:
· Uprated clutch with Halco springs
· 840cc conversion (Modified Suzuki SP370 pistons in new liners with barrels and crank case openings modified to accept them). 1.5mm valve to piston clearance. Bore increased from 75 to 85mm. 10:1 compression ratio.
· Inlet and exhaust porting - designed by me and performed by professionals in the UK.
· 2mm oversize stainless inlet and exhaust valves in new seats with titanium collets and retainers
· Frank Trost street cam.
· 36mm DellOrto pumper carbs (Ducati) with POD filters
· Boyer ignition
I bought a ratty 1980 SE for $2000 as my donor bike and fitted the new engine to it for a shakedown before stripping the bike. The motor pulls brilliantly but will need a better exhaust system and some dyno work to optimise the jetting. This is my first motorbike port design so no outlandish claims – I will see how it performs when tuned.
FRAME
Next step was to completely strip the donor bike and throw pretty much everything into boxes to be re-used or sold at a later date. Time to get medieval on its ass and grind off all the excess bracketry I would not be requiring - very therapeutic but also a bit daunting.
Rear seat support was removed to make way for a tracker style seat. I paid lots of money for a new tracker style seat from the UK, only to decide it was not the right shape for me. Grab a fibreglass single seat from ebay and cut it to bits to give the shape I needed.
TANK
I decided to ditch the perfectly serviceable SE tank in favour of an ebay 1974 tank – just to be different. Of course it is never straight forward, and this tank required dozens of hours of stripping, filling and sanding to be serviceable. The original tank mounts on the frame were ground off and new brackets welded to the frame to accept the new tank. This also required new steering stops, new rear mount boss etc.
WHEELS
The cast wheels were not the look I wanted, so I dug up a standard XS front hub and drum rear hub and had these laced into new rims. I have gone for 18"x2.5" rear rim and 19"x2.15" front rim with wheel building by Graham Dawes in Geeolong. Some new rubber from Road & River (Macadam 130/19 rear, and 100/19 front) and I had the makings of a tracker.
SUSPENSION
The standard front forks are pretty awful and were junked. Lots of XS'rs have vastly improved the handling by uprating the standard forks, but I knew I wanted modern brakes, so a Yamaha Thundercat (early R6) front end was grafted on with taper roller bearings. Rear shocks are Hagon but their performance is yet to be evaluated and may not make the final cut.
Top yoke (triple tree clamp) is the most expensive part on the bike! Billet CNC from Germany to suit the forks.
BRAKES:
Modern Brembo master cylinder and 4-pot callipers should pull this baby up pretty quickly! New fabricated brake mounts hold them to the forks, gripping standard drilled XS disks. This is still work in progress as the back of the callipers just clip the spokes. I may space them out a few mm or try some SV650 callipers.
I would also like some after-market floating disks but I have already blown the budget and don't have much space to mount the callipers.
ELECTRICS:
New KTM switchgear (the neatest, most durable stuff I have found), Boyer ignition, small 12V commercial spotlights as headlights and new fusebox form the basis of the new electrical system. Everything is being re-wired from scratch using good quality automotive connectors, and the bucket load of un-necessary 1970's electrics are being ditched.
NEXT STEPS:
· Sell some of the unused bits to fund the rest of the program!
· Exhaust system needs to be designed and fabricated. Twin high pipes are definitely the go. I will probably get some pre-bent pipe and tack-weld something together which can then be reproduced by a shop. Tuned for mid-range rpm.
· Front brake issue needs to be resolved, and stainless lines made to length.
· The front headlight is just a mock-up and needs to be fabricated from stainless.
· External oil cooler being considered.
· Battery mounting required. Small gell cell battery under the seat.
· Paint / powdercoat the frame a gun-metal grey
· Tank is painted in a basecoat of Absynth yellow. Yamaha black and white chequer will be run down the flat edges of the tank and rear of the seat.
Still loads of work to do, including an obscene amount of sanding, painting and polishing.
Inspiration from 650motorcycles.com, Yam650 list and Terry Gliddon (my goal is to get my bike on the road before yours!)
Glen bitsa650@hotmail.com
Update (28/5/07)
I went for a drive to check how Glen's project was going yesterday and took the following pics.
Glen told me he has made his exhaust system but it was away getting welded when I visited so I missed out on seeing it.
Two pipes up the left side with Harley mufflers is the design Glen chose and it will look fantastic when finished.
As you can see the wiring has been started and Glen has clearly labeled every wire making his job a lot easier, notice also the reinforced swing arm and the bracket for the twin mufflers.
Glen has also started the American racing paint scheme on the tank (bumblebee stripes) which will complete the tracker look when finished, I interrupted the process when I visited and only one side of the tank has been done at this stage. The frame will be powder coated, colour yet to be decided and done by Glen at home. The instruments will be Motec styled speedo and tacho all in one unit centrally mounted which Glen sourced from England.
The 840cc motor is currently sitting on the floor and Glen showed me the port job done in England when he lived over there and it is a very nice job. It was done by a mate who also happens to be a formula one mechanic and according to Glen it hammers!
Glen hopes to have the bike completed in time for the 2008 AGM at Phillip Island so let's hope we see it there.
If Daryl and I can finish ours as well we might have a nice trio of trackers to look at.
UPDATE Xmas 2007
Picture was taken just before powder coating. I now also have some awesome YSS rear shocks and am just starting the re-assembly job.
Update 3/8/08
The addition of some new YSS shockers and the frame painted in satin black are just a few of the things that have progressed in spite of a back injury that slowed things considerably for six months.
A change of plan for the front headlight to something more traditional.
Plans to do some carbon fibre work and some minor sorting out will hopefully see this lovely bike hit the road very soon.
26/6/10
Glen has now done some carbon fibre bits for his tracker and plans to do some more when he has the time.
Side covers and frame dress ups are now carbon fibre as well as the headlight mounts.
The other major change from the previous pics is the new floating front disc rotors Glen had made and the painted front guard to match the tank.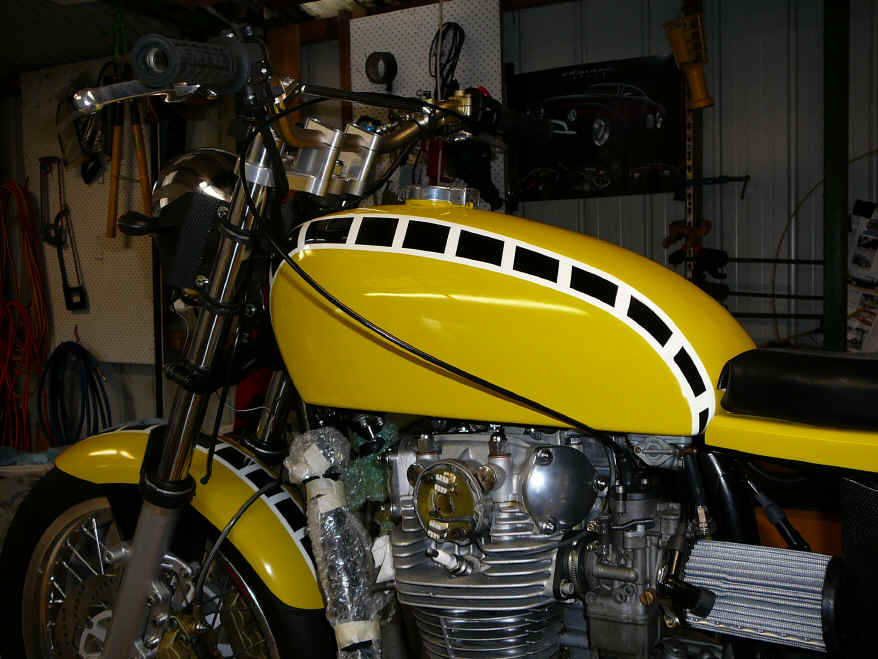 Great work Glen, the bike looks fabulous!
Finally finished Glen and his Tracker
Very neat switch gear off a KTM on the left side.
Triumph switch gear on the right side.
LCD speedo works great
Harley mufflers (modified) and YSS shockers
Brembo brakes makes it stop well enough to make your eyes pop.
Göran Persson's Project (1/5/2005)
The bike I am building for my wife is a 1979 XS650 US Model. Imported to New Zealand 1987. 7 Previous NZ owners I had been looking for a 1979 frame for a long time when I found this bike locally in February 2005. The bike was not in a very good condition and the engine will need a lot of work.


Go to the link below for the full sequence of pics in the rebuild.
http://photobucket.com/albums/v463/GoranXS650/XS650%20Tinnis%20Project/
Terry Gliddon's street tracker (updated 11/12/04)
The tracker started life as a 1974 TXA rolling chassis I bought at the local wreckers for $100. I was given an incomplete '80 motor and with the help of Tom Radant in the US was able to complete the motor. Plans for the motor include rephasing to 270° and fitting a 750cc kit from Dave Rayner using Ross pistons with 9.5:1 compression ratio, I also plan to use a permanent magnet type alternator and elephant's foot adjusters on the rocker arms. Dave also supplied the front forks, cam was supplied by Frank Trost and is his "447-01-270" grind. Frank also supplied the '80 tank. I got the Dyna III ignition system from Don Sunby in the US and modified it myself. I recently bought another bike and this supplied the mini speedo and tacho and the XS1 front hub I'll be using along with any other bits I need for the running gear. The seat base I made myself as the cost of importing one is too expensive. I am using new Akront polished alloy rims, 185/19 front and 215/18 rear, these are both TR or non valanced type rims supplied by British spares in NZ and stainless spokes from Custom Wheel Components in the UK, the front wheel has been completed and was drilled, laced and trued by Graham Dawe in Geelong, I did the bead blasting, polishing and painting of the hubs and backing plates myself. Front forks are 35mm and have been modified for the XS1 hub by removing caliper mounts and welding on a boss for the brake backing plate.
I'm using an old style Lucas tail light the same as the one on my Triumph which is mounted and braced with stainless steel plate and rod which I'll polish, headlight is a 240mm Bates type chromed H4 unit supplied by Vehicle Wiring Components in the UK. Front mudguard will be a tyre hugging job painted matt black so it's hard to see. The seat pad I made of closed cell high density foam from Clark Rubber and stitched the vinyl cover myself. First time I ever used a sewing machine and it turned out great, I surprised myself. I have just finished preparing the tank for painting but found a small pin hole in the bottom, I had this welded and the tank has sealed with a POR15 kit I bought in Geelong. I have removed all the dents and filled the badge recesses to give a smooth look to the tank and have decided to go with a bright red paint job and silver frame much like the Ducati colours, I figure if sounds like one it might as well look like one! The colour by the way is called "Sting" and is a VT Commodore SS colour. There is a local lad that does airbrushing and I have approached him to do some fancy stuff as well, the price will have a lot to do with whether I actually get this done or not!. I recently got some bits sent out from Mike's XS in the States, swing arm bushes, tube and grease seals as well as some tapered head bearings, foot peg mount rubbers and a decompressor cable.
I have already modified the swing arm with a central grease nipple and solid pivot bolt from a Suzuki GS and have added an extra brace for stiffness. I'm almost at the stage where I can send the frame in for blasting and painting. I also made a cover for the battery box (I stole the idea from Dave Rayner's Café racer) instead of using the stock side covers.
The reason for this is so I can tuck the pipes in nice and close to stop them from burning my legs. I discovered to my horror that there was insufficient clearance for the chain because I made the swing arm brace too narrow but I managed to flatten the pipe slightly in my press and I now have enough clearance.
The rear wheel has now been completed thanks to Graham Dawe and I have put the spare motor in the frame and I have started fabricating the pipes. I bought two 44mm donuts for the tight bends out of the head and around the barrels so my high pipes are starting to come together.
Update
My mufflers arrived from Mikes XS and I made some brackets which mount to the shock bolts, nice and solid. I also had some Harley exhaust covers given to me and I cut out pieces to make heat shields, I had to move some of the mountings and I did this by spot welding them in place with the MIG. I now have to have these rechromed as the spot welds show on the outside of the shields where the chrome has burned.
Now with the high pipes on you can see the effect I was looking for, should give a nice "in your face" sound to the rephased motor. Notice the Number 10 flat track bars? bloody wide aren't they!
Post Christmas update
Christmas has been and gone and I got some 34mm Mikunis, I got them from Pro-Flo in the US and they cost AU$310 per pair landed here in OZ, they aren't jetted and they didn't come with air cleaners or manifolds or cables but they are still good value and I got a left and a right carb, which was what I wanted. I already had the other stuff anyway.
As you can see, I did the Göran Persson mod and fitted the rod between the carbs to stabilize them. I was also lucky enough to find another pair of mufflers in good nick and decided to modify them to give a bit more flow. The new ones I got from MikesXS are a bit restrictive so I'll keep them for those times when I want to be good and put the modified ones on when I want be bad. I modified these by grinding the weld around the endcap and pulling out the standard inards and throwing them in the bin. Next I made some new big bore centres and made a new endcap from a 2" Chev welsh plug bored to suit and welded in place. I'll use my old favorite stainless scrubbing pads for packing and then weld the whole lot back together again.
I made the bore size 1.25 inches which goes with the Michael Morse recommendation for best bottom and mid range torque so the next step is to have the mufflers stripped of chrome and have the whole exhaust HPC coated in silver ceramic to give it that competition look.
16/3/05
Two weeks ago I sent the pipes and modified mufflers off to HPC at Leongatha and yesterday I received them back Finished in "HiPerCoat"
As you can see they do a very nice job and the total cost of the coating process including postage was $200. Of course it cost more than that all up as I had to have the muffler cans stripped of chrome and that ended up costing me $80 (long story) and should have cost about $30 and the cost of making the pipes themselves was probably around $150 if you don't count my time. All in all I'm very pleased with the result and would recommend HPC for any coating needs to anyone. I have now packed the mufflers and welded in the end caps and painted them black to disguise the welds. I need to pull my finger out and get on with some frame painting and get the rolling frame finished. I am leaning towards painting the frame a sort of silver grey.
Update (24/6/05)
Well, since these pics were taken the bike has been completely stripped down to the bare frame and blasted. The pic below was taken after the final coat of Koala Grey was applied, howzat for an Aussie colour.
I guess it's a personal thing but I quite like the look of it in grey and as Phil Little of Omar's once said, "don't paint the frame black on a tracker, it makes it look too heavy" I must say I agree with him on that one. I always liked the look of the BSA Rocket III with its grey frame. Now I have to start thinking about getting some parts plated for the rebuild. I think I will get some parts like the brake stabilizer bar to the rear hub chromed and others like the brake rod bright zinc plated although I have thought it would be nice to make that out of stainless steel. A mate just gave me a nickel plating kit he wasn't having much success with so I might have a go myself and try some nickel plating of some nuts and bolts to save some money.
(31/7/05) I took a trip to Melbourne yesterday and visited Daryl at PMT and had some "Michelin Macadam 50" tyres fitted to the tracker wheels. While I was there I met another club member Rick Symes who was also in need of some tech assistance from Daz.
As you can see the bike looks a lot more complete with the tyres fitted. The nickel plating is coming along very nicely and I have now quite a few small parts and am very pleased with the results, I'll post some pics of some of these soon. I have also completed the construction of two programmable ignition kits from Jaycar which I hope to interface with my Dyna III ignition system to get rid of the mechanical advance mechanism. These kits allow two programmable advance curves and a rev limiter and only cost $65 each. Although originally designed for use on a car with a distributor I hope to be able to get them to work on the rephased motor.
(14/09/05) I just got back some chrome work today from the platers, sure adds to the cost getting all the bright work done, cost $380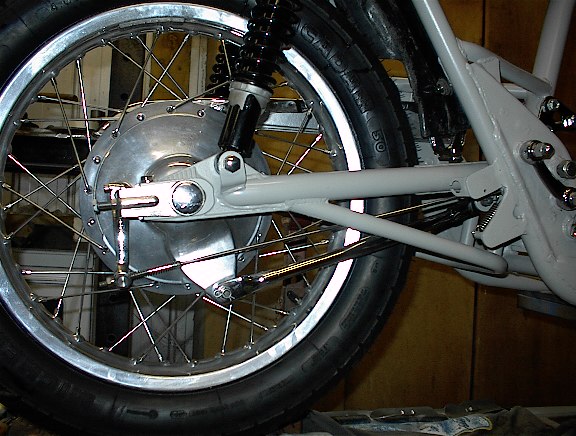 Bolts and top engine mounts done in passivated zinc, a kind of gold colour, everything else chromed, should look ok when it's all bolted on the bike. I've been advised by the plater to use Fisholene in all the areas where there are brackets like on the chain guard where it's double paneled then spray all the low strike areas underneath with Galmet cold galvanizing paint and to use a spray silicon based wax on the bright surfaces to preserve the chrome, I'll try a product I've seen them use called "Mr. Sheen." Hopefully with all this done there won't be a problem with the chrome in the future, fingers crossed.
Update (5/7/06)
I fitted my front guard which I just received from Moto Tumbi. The cost $90 delivered to my door. I shortened it by about 2" and reshaped the front slightly to make it a bit pointier and corrected the front struts which were not quite parallel. I had it painted black. Next the tank which should be ready by the end of the week.
I also polished the tail light / number plate mounting bracket so at least I can say "I have been working on the bike !"
Not much for the last several months though I have to admit.
Update (18/9/06)
I finally got my tank back and back on the bike this week. As you can see the flames are very subtle and more like a ghosted effect. The tuning fork emblems are done in gold leaf. I now have the tail in for some air brushing.
Here's the tail graphic finished, just needs a coat of clear and it will be completed. Now I just want to make a new seat pad in black leather (thanks to Fiona Palmer for the leather) and the real work can begin, building the motor and doing the electrics.
My electronic ignition has been getting some attention lately and I have completed the input circuit for programmable ignition timer and now all I have to do is build another small interface circuit for the output and assemble it all and test it to make sure it all works.
I have also dabbled with a pair of ignition amplifiers off a Magna (J121's) to drive the coils, these are basically a power transistor in a package that amplifies the pulse signal from the Hall Effect sensors and drives the coils direct. I want to put my programmable ignition timer module between these but because the PMT operates on 5V and everything else is 12V I needed to build these interface circuits so all the pieces are compatible. (I hope)
I made an under seat tray to mount the programmable ignition timers I built, now I have to redesign the battery holder and other electrics which will mount in there somewhere. I got a suitable case for these from the Polycase in the US and they should stay water tight inside when the lid is screwed on. Some wiring still to be done and some testing, I will put more pics up as these bits are added to complete the ignition system. (I have abandoned my own ignition system in favour of a PROBE ignition and may try to finish the programmable ignition later.)
I've spent the last couple of days belting shit out of a piece of metal to make the base for my new seat pad and finally got it into shape.
Now all I have to do is stick on some padding and get the leather cover fitted and mount it properly. I think it will look better than my last attempt. Anyway I'm having fun and it's pretty good therapy too! Seeya soon Toota.
27/12/06
I got busy again over the Christmas break and did some more work on the seat, I drilled some holes and pressed and spot welded in some threaded inserts to mount the seat properly to the tail piece and glued and shaped some high density foam. I used some rubber trim around the edge and two layers of 13mm foam, the thicker foam I already had was too hard to get into shape at the back. Now all I have to do is find a good leather upholsterer to cover the whole thing and it will be finished.
I welded the inserts at Kev's place coz he has a TIG (thanks mate)
As you can see it's a nice form fitting seat and much better looking than the last effort. Should look great in black leather. I'm hoping the cover can be stretched etc. to fit with no stitch lines, just a smooth cover. The foam I used is very dense so the seat is quite hard but should be comfortable enough for short rides. Sorry guys, I will not be riding this thing to Sydney or Brisbane for the AGMs I don't think my arse could stand it! Seeya soon Toota.
17/01/07
I got my seat back today and it looks great. Thanks to Westcoast Motor Trimmers at Ocean Grove. Another job I can strike of the list of things to do! If I keeps this up I'll be riding it before I know it.
24/01/07
Daryl Hutcheon bought his CBR250RR alternator conversion to the BBQ last week for us to look at and while it is ingenious it is also very difficult to do for anyone without a full workshop of specialized tools like a lathe. The rotor is actually inside out and the stator must be suspended from a case much like the standard XS650 alternator. To mount the rotor, the end of the crank must be machined off and an threaded hole created where the threaded end was, and a bolt used to retain the new rotor. All this is doable if the motor is already apart and the crank disassembled. I much prefer to use a setup like Dave Rayner's from a RD/RZ CDI model where the only real modification needed is to make a mounting plate for the stator and step the key to marry the rotor to the crank. I still have to check the outside diameter of these as Dave's isn't incased and it might be too big.
28/01/07
Wayne Townsend called me yesterday and told me that Bettabikes in South Oz is the place where these conversions are done.
Apparently Steve Warnes has been doing these conversions for some years and uses the RZ250/350 alternator. He can also incorporate a CDI ignition in the conversion for a standard 360° motor. Wayne has two bikes fitted with this setup and says they are as reliable as a clock. I will have more details after I have spoken to Steve about price and availability. After talking with Steve at Bettabikes he has convinced me that the conversion he does is more suited to the off road brigade and at a price nearing $500 for the conversion I'm inclined to agree with him, the CDI ignition won't entirely fit under the side cover and some cutting and welding is needed to make it all fit. If it's off road racing that floats you boat then give Steve a call for a reliable batteryless CDI ignited system.
I have now done most of the permanent magnet alternator conversion for my XS650 and transferred the procedure to the Alternators page
29/4/07
I bought a set of high ratio primary drive gears from Ivan Hoey ( I have set number #1 )and have been modifying the clutch basket and backing plate to fit these and will fit one of my clutch kits at the same time, well that was the plan, I now know that there are plans to produce some billet clutch baskets for the XS motor so I might wait and see how much these will cost. If they are not too much I will get one of these instead. Kevin Palmer is looking at getting some billet baskets made (he'll need one for his bike) and tells me they will be made of 7074 alloy which I am told is the bee's knees for strength.
I managed to get a Billet clutch basket but unfortunately only three were made, I got one and the other two went to people who threatened me with death if I tell. Sorry guys aint they gorgeous!!!
I've got to get busy now and sort out the electrics on my tracker, once that is done I'll only have the motor to complete and I will be riding the beast.
21/6/08
My god has it been so long since I upgraded my project?
My latest brain wave (read fade) is to make a belt drive for my tracker, this is a good idea in theory as the new polychain carbon belts being made by Gates are supposed to be tougher than the equivalent sized chain. This means that a 21mm wide belt should be strong enough for all but the most powerful XS650's. The problem is there is insufficient room behind the side cover to run the stock cable operated clutch. I could convert to hydraulic or a pull clutch but this means a lot more work.
My other problem is the brace I welded under the swing arm will also foul the belt no to mention that you can't fit the belt without having a removable section in the brace so I will have to replace the swing arm. I don't mind that so much as I might look at using an alloy one from another bike, all I have to do is find out what else fits!
Here is the first picture of the bike as it will look like when finished, it's the first time I have had it all together with the motor and frame in situ for mocking up the belt drive. That's enough for today, my head hurts!!!
I have decided to go with the pull clutch on the Tracker and Matt Moloney has offered to make this for me, thanks Matt.
As you can see it's not too obtrusive and I have tried the one on Matt's bike and the feel is excellent.
I have also bought my PROBE ignition which is tiny and should be easy to hide. This is the new mark II version.
I have also just placed an order with MikesXS for a new set of gearbox bearings which Mikes now stocks as well as performance clutch plates and steels. I am now getting very close to being able to assemble my motor, just waiting for some other top secret parts currently being made for my motor. Unfortunately I won't make the deadline for the AGM this year but there should be some other interesting bikes to look at there.
Visitors comments:-
"I had the good fortune to visit Terry Gliddon at home the other night to collect a couple of stickers, while I was there he allowed me a glimpse of the "Tracker" project (among others)! From my point of view it is well on the way but he tells me there's a long way to go. I must confess, while the photo's are great, it looks dynamite in the flesh! The work is meticulous, everything purpose built and it will be a work of art when finished. (Won't go into the tech details as Terry has already done this with his "work in progress" update reports and photo's) Actually encouraged me to get on with my restoration project (650 C) which I have pulled from the back of the shed. Gained a lot of valuable tips for mine whilst I was there, ordered a belt buckle and from the photo's it look's awsome.
Congratulations Terry, as they say in the classics, seeing is believing, and, seeing was believing.
Keep up the good work.
Chris Thomas
Werribee
Actually the good fortune was all mine, I had the chance to meet a really nice bloke with a common interest in XS650's. By buying stickers and a belt buckle he has helped the club racer along and for that I thank him and everyone else who has contributed.
I'm sure Chris will do a bang up job on his XS650C and we will get some pics along the way to display here I hope.
Cheers mate,
Toota
Update 6/9/08
Fitted my YX600 Radian swing arm today and it is virtually a bolt in fit, only issue is the axle size which is 17mm so I either have to change the wheel bearings and spacers to suit or alternatively bore the axle adjusters and swing arm slots to suit the stock XS axle. I think I will go with the second option as it will be less work and have a stronger axle. Unfortunately I later discovered that the stock axle is too short and I had a new longer one made by Lange Engineering.
Belt drive fits ok with the radian swing arm and there are no clearance issues, just some minor alignment adjustments. I just have to paint the swing arm after the minor mods to suit the larger and longer axle.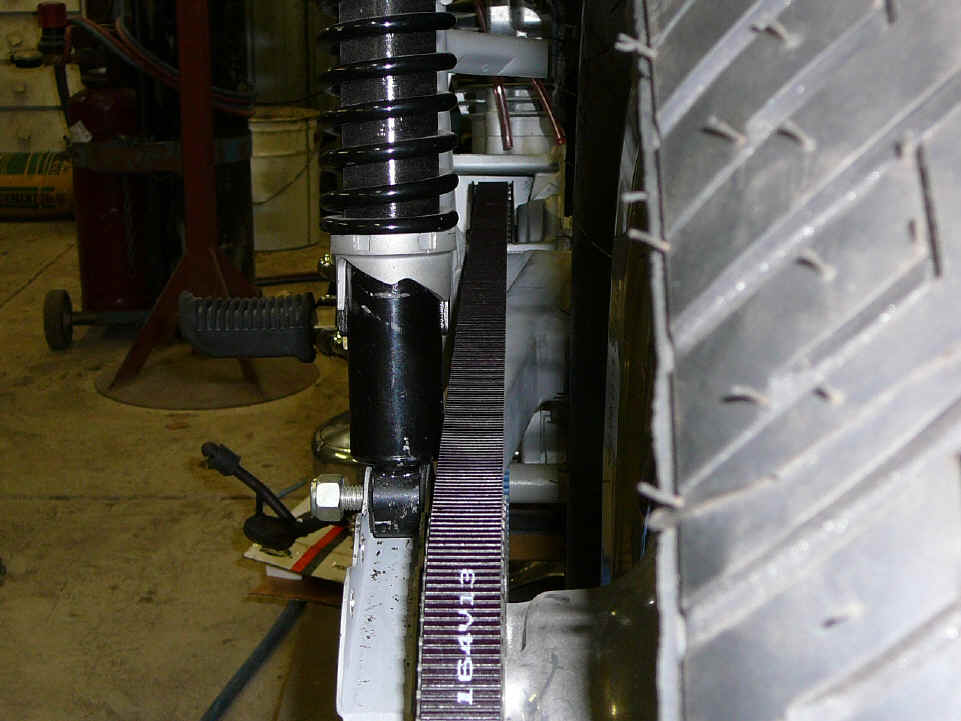 I finally got back in the shed for a couple of days and managed to make a battery box for the tracker.
It's not welded to the frame yet and it hasn't been painted either but is is built. I also made a bracket for the regulator/rectifier
and I also made a small bracket for the starter solenoid which mounts at the front of the battery box under the reg/rect.
This will make wiring a lot easier as all those components are in close proximity to the battery and near the rear of the motor where the wiring from the alternator exits.
The battery box has now been welded to the frame.
The regulator/rectifier has now been painted and I made a few minor modifications to the battery box, I changed the knurled nuts to make them a bit more stylish and painted some of the brackets mounting the starter solenoid and reg/rect. I also made a belt guard out of the same perforated stainless as the battery box.
I am not sure I like the perforated stainless guard yet and may still change it in the future for a solid stainless design but it is growing on me so who knows, I might keep it yet.
I have also been messing with the bottom shock mounts. Originally they required a nut and bolt to secure the bottom of the shocker to the swing arm but I didn't like how close it was to the belt drive rear sprocket so I made some plates to slip in behind the original mounting brackets and cut some bolts to length so they could be bolted on from the outside only.
It's a bit hard to see in these pics but there is now about 5mm clearance between the sprocket and the shocker mount.
I made some aluminium spacers to fill the extra shocker mount holes. This serves two purposes, it holds the plate on the back if I decide to move the shocker to another hole and also prevents the thin mounting bracket from collapsing allowing me to tighten the extra bolts fully, it kind of looks ok too I hope.
I also mounted the fuse box under the seat and am still trying to decide where to mount the PROBE ignition box.
By the way these fuse boxes are a good choice for a bike, they are available from Tandy electronics and hold four blade type fuses and come with a removable cover and all terminals on the box are standard spade connectors. As you can see I mounted this on a piece of 1mm thick plastic so there is no possibility of shorting out any of the terminals.
At least I'm making some headway with the project and I will hopefully, finally, finish it this year.
13/12/09
I finally got around to doing something on the tracker, with all the other stuff I have going on at the moment with the club racer it has been hard to find the time but this week I managed to start mounting the indicators.
I bought some stainless tube and had the ends crimped to reduce the diameter so I could drill and tap them for the indicators to screw into. I then made some brackets from stainless to mount the front ones to the clamp bolts on the top tree. I got them welded and polished up and made some spacers that bring the larger diameter of the blinker stalks down to the diameter of the mounting tubes and I think they look ok.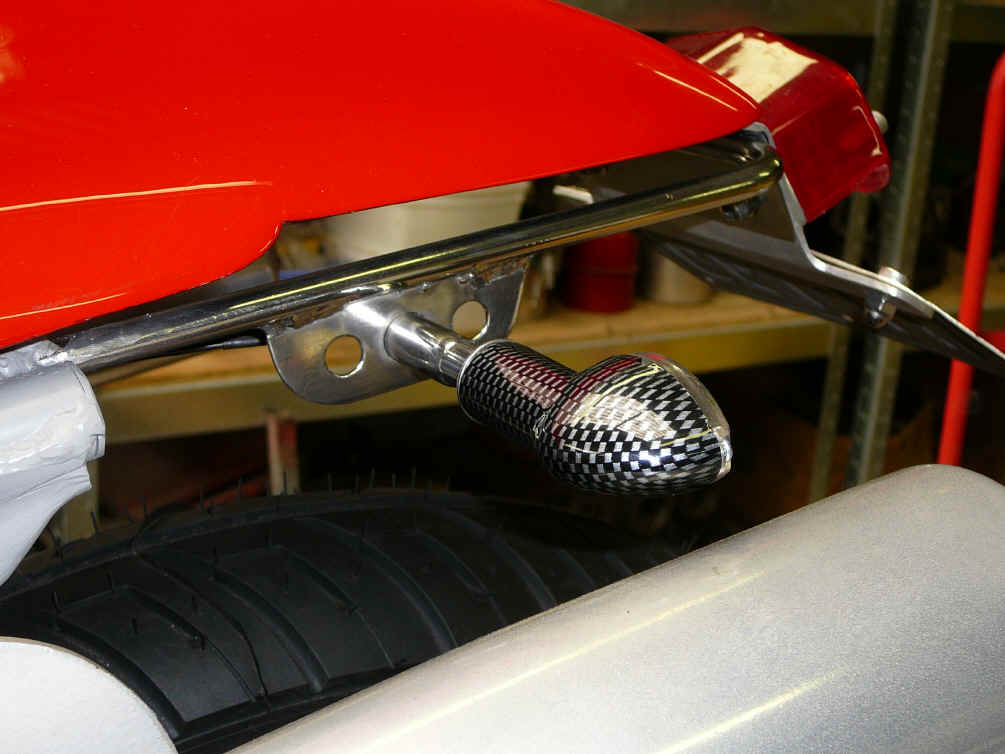 I will make some spacers like the front ones for the back as well but I ran of alloy to do this.
Update 8/4/2011
Now that the club racer exhaust and rear sets have been mocked up on my tracker I can get back to building it again. I went to Warrnambool at the weekend and picked up the completed rephased crankshaft (below) and took a look at the almost finished pull clutch that Matt has been doing for me when he is home (not very often unfortunely). So look for some progress soon.
Update 28/10/2013
I cannot believe it's been so long since I did an update on my tracker. Since the last report I haven't done a great deal it's true but I did manage to get my pull clutch pieced together.
Here are the main components, the right side engine cover, the lifter cam, the modified pressure plate and the outside cover.
here is how it will look when it's all together.
The lifter cam in detail
The lifter cam and seal installed in the side cover.
Inside of the cover with the lifter bolt installed in the centre of the pressure plate
The inside of the cover showing the oil seal where the lifter bolt goes through to the lifter cam.
The operation is quite simple, when cable is pulled it rotates the lifter cam which lifts up pulling the lifter bolt which is attached to the pressure plate thereby releasing the clutch.
As you can see it all fits beautifully with clearance to both foot peg, foot brake and Mikes XS oil filter.
The end, for now. Seeya soon, Toota
Rob Bolton's project
Alive and well in Brissie. After restoring my XS1, I got bored so am now back on the restoration circuit. The astute will notice that I am a traitor to the club but will restore & sell this to finance a later model 650 –ie one that has all the mod cons such as this new fangled electric start and disc brakes!!!!