If you have a project you'd like to see featured here just send some pictures to me and text and I'll include it here.
This page is dedicated to the garage dweller, the X650 enthusiast who has that special project hidden away from prying eyes waiting for the day when he, or she, can take it for it's first ride. So if anyone out there just can't wait for people to see their pride and joy, and you want to share that secret project you've been working on for years with those who will be interested. Then this is the place!
Darrell Playle's Custom Bobber
This is a custom bobber I am building as a shop bike, 79 special frame supplied by Kevin Boss that I have cut and fitted new neck gussets, Visual Impact brat kit from the US.
Triple trees are from an 85 Sportster and the front end is off a 2005 lowrider.
Petrol tank is from a 95 Sportster and the rear wheel that hasn't been fitted yet is also from a 2005 lowrider.
I will be making a new swing arm to house the HD wheel as the next stage. The HD front end conversion was an easy mod to do without modifying the trees or the frame neck.
Had a new stem machined up to take the stock Yamaha bottom dust seal and used to bottom tapered roller bearings for the XS so that the shaft could be the same size all the way, utilised one of the XS lock nuts for a preload on the bearings and a stepped washer so that the top stem nut locks it all in place.

Regards,
Darrell Playle
Western Australia
Update 18/5/15
Update on my bobber build for Garage Scene mounted the tank and front fender this morning start the HD swing arm conversion next.
Regards,
Darrell Playle
Looking good Darrell, keep up the good work.

Wilko Van Syl's Bobber
Bobber Build
It all started off many years ago when a mate had an 650 special in the early 80's it had 'paint can' baffles on short pipes and sounded awesome, he used to throw me the keys all the time and I swore that one day I would own an XS.
Years later I was having a few beers with another mate and we got to talking about old Yammy's. Well he said it just so happens that I have one, an old TX650A down the back of the shed under a trap. He wasn't keen to sell it but a few months later he needed some cash and the deal was done.
I took it home and stripped it down for a full restoration, it was last registered in 1998 and in bad shape. Over the course of around five years (in between two house renovations) I finally got the old girl on the road. Many thanks go to the XS650 club and its members for inspiration, parts and technical advice.
Fast forward a couple more years and a work mate (and fellow XS650 club member) Peter Grice comes up with the idea of building a bobber. As luck would have it a week after that another mate called me to see if I was interested in buying a couple of Black XS650's that he had just imported from the States. I just had to check them out. Well one of them turned out in better nick (more original parts) than the bike I restored earlier and it got me to thinking of Gricey's comments the week before. I called him to say that we had the donor bikes. My old resto job and the rougher of the two imports were to become Bobbers and that set off a year of tinkering in my shed…
I spent a few weeks on the 'good import' to get it registered, a POR15 kit in the rusty fuel tank, gummed up carbies, seized brakes, leaky forks and a good detail and it came up like brand new. There's quite a few hoop's to go through in getting and imported bike registered but as long as the paperwork is in order it's relatively painless.
You read articles and see bikes in magazines but you have no real idea the trials and tribulations of building a bike that complies with Motor Vehicle Registry requirements. Here in the Northern Territory it means an application to the TAC (technical Advisory Committee), lodged through vehicle standards Australia plus an Engineers Certification. Not only that, you can't weld it yourself unless you have a trade certification to Australian Standards.
In our case we used Celerity Engineering for the certification and a mate of mine Troy Dunning from BO Chasssis & Racecars for all the structural welding. We purchased a couple of "David Bird" hard tails from 'Lowbrow Customs'. Other parts include the Cleveland tank, solo seat, Sparto tail light, headlight, 5" rear guard, short mufflers, forward controls, brake pivot assembly all came from TC's. Handle bars, front guard and all mechanical items (carbs, cables, sprockets etc) from MikesXS
Once the frame came back from Troy's it was a case of assembling all the amassed parts, sounds easy in theory but a little more difficult in practice. Parts just don't line up and bolt together and more often that not it's a matter of thinking it through and modifying the bits and fabricating stuff to make them fit.
The Engineering 'test day' was very interesting, I had only had a couple of quick runs around the block before we took it to and old WW2 airstrip south of Darwin for a test run. Weaving through cones lined up on the strip at various speeds was fun but the emergency braking at 100kph was a little hairy, I just wasn't used to the bike. Having said that it passed with flying colours…
It's a been a journey of a little more than a year from the 'first cut' till the engineering certification and registration and although it was a fun ride, there's nothing better than jumping on the thing for a blat through town… it turns heads everywhere you go…
Gricey's bike is coming along nicely as well and will soon be one the road, it will be a lot flasher than mine so I'll leave that story to him…
Some YouTube links in the build and on the road;
https://www.youtube.com/watch?v=5i0xrKsjzsw
https://www.youtube.com/watch?v=hoGxWjNdZsI
https://www.youtube.com/watch?v=j2dY4tUXSIY
Peter Kommer's Chopper build-up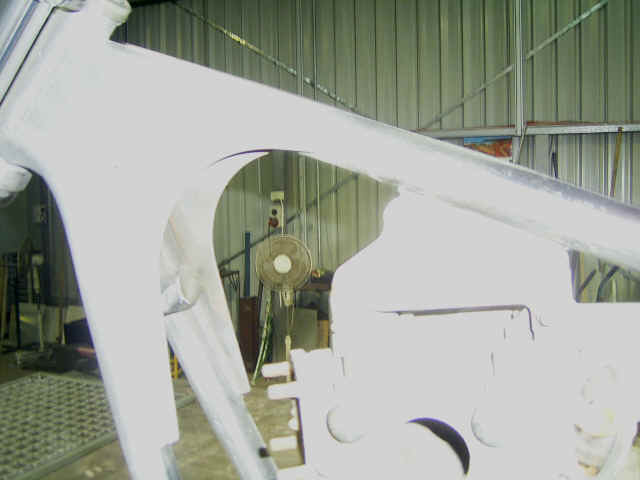 As you can see Peter's cutting and welding skills are second to none and he likes nothing more than chopping an XS650.
A picture is worth a thousand words and Peter tells a great story with these pictures.
18/05/2015