Jamie Cahill's XS2
Jamie has only recently bought this XS2 with late front end and custom seat and he tells me the previous owner has done a complete engine rebuild so he's looking forward to some "quality time" with his new toy. He's already looking for the parts to restore it back to original so if you have any parts he might need I'm sure he would be happy to hear from you. He can be contacted at his email address:- locoaudio@ozemail.com.au

Gavin Gills 1974 TX650A
I never had the chance to meet Roy & came across his TX 650A only by chance.
Described by his brother Ion as a great bloke who was a single guy who's life was motorcycles .It was through a conversation with Ion to do with Windsurfing that I found out about the TX.
Sadly at the age of 50 Roy left us due to cancer. Roy had owned all sorts of bikes from his teenage years until he fell ill some 6 years ago. Ion tells of the Duke 450, the numerous Bsa,s Trumpy,s & Nortons. He had that larrikin style that I am sure a lot of bike riders have or had.
You know, the old wheel stand pose on the Norton up your parents drive way that ended up in the tank stand. As far as we know Roy purchased the TX new & while he had other bikes since 1974 never parted with the old girl. When found the TX had been resting since he fell ill, but there is evidence that a rebuild had been started .
The pipes & carbies were off & the engine bolts where loose. Ion says that after all the bikes he had, he always came back to the TX.( sound familiar)
My mission is to restore TX Roy & once again take Ion & his children for a spin around the block .
Roy McPhee was a concreter by trade & last lived in Lismore N.S.W.
Gavin

Ross Lawson's XS650C
Ross tells me this is a XS650C with a TXA tank and to me the guages look like they are off a Special but the whole effect looks very nice. I like the slotted brake rotors and the clean look of a freshly painted bike, well done Ross.

Rob McKie Racers
Rob McKie's brother owns this bike, the top pic is Rob racing it on a speedway somewhere.
This is Rob's own Racer he races in Post Classic Period 4 (guess which class we will be running in with our club racer)
Here is the latest picture of Rob's bike with a different exhaust, seat relocated further back, new clip-ons and foot pegs lowered for a better ride position. This pic taken October 2014

Nick's McGinn's Restoration of a XS650C
These pics of Nick McGinn's bike was sent by Dave Taylor and I must say great job Nick the bike looks fantastic, well done!
Hi Dave, just reading through a few emails myself.
I will try a few words on the rebuild but you may have to edit if I start to waffle, I have owned the bike for 17 years and it was a one owner from a mate . It sat in the shed at my parents farm for 12 years until I had to bring it home to Melbourne when they downsized. Several more years past and lots of other restos, until last year when I pulled the 650 out to give it a "quick tidy up!" As you know, one thing leads to another and 12 months on it is finally finished. All of the work was done in my shed at home accept for the final clear coat over the tank and side covers. Wheel lacing ,engine rebuild, paint, the list goes on. All of the original nuts and bolts were replated at Big Zinc in Kilsyth and various stainless fasteners were added. The bike still runs the points ignition for the simple reason I wanted to keep it absolutely original, the mufflers are the only parts that I haven't replaced with standard pattern mufflers.
That's about it without going in to anymore detail!!! Let me know if the photos are ok.
Thanks for your interest in my project.
Nick.
P.S that's the old man in the photo waving the spray gun around, and I have started my next 650 .It's a tracker with all the go fast goodies inside and some of my own ideas as well. It will only be a track bike for practice days at Broadford at this stage.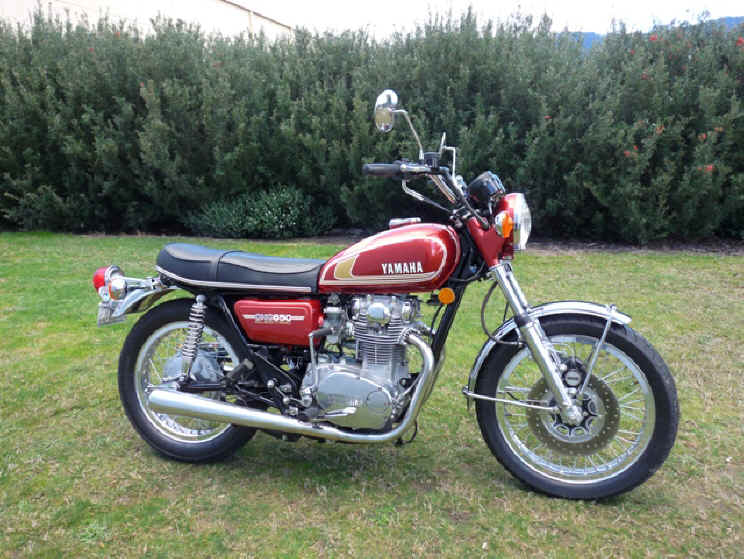 Nick's other bike is his Flat Tracker
Update 28/2/2011
Nick just sent me these pics of his tracker that has just been painted by his dad. The seat is currently away being upholstered.
Nick will be riding this bike at the Easter Bike Bonanza at Broadford in 2011 at the speedway track.

06 November 2014