Ivan's racer in it's final form before being retired in favour of a new P4 racer.
Ivan has now retired his P5 racer and has built a P4 racer to compete with our own club racer.
Engine has been reduced to 750cc from its former 840cc some time ago while it was still racing as a P5 and has now been installed into a XS1 frame with Moto Tumbi fairing and YZ400 alloy tank, the bike also includes the same wheels as before but now fitted with new brake calipers to fit the P4 category. New two into one exhaust and cafe racer seat completes the new racer.
Ivan has also built a tracker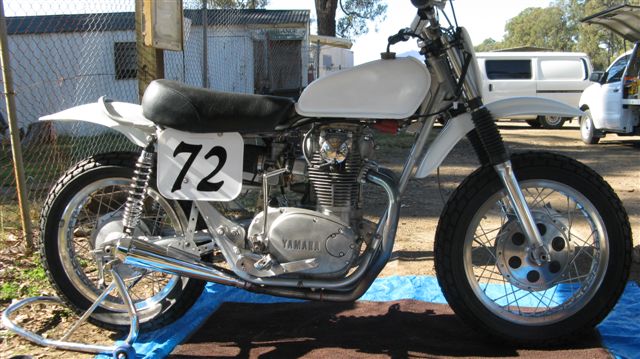 Ivan also has a TX650

Hi Terry,
I've been thinking for a while now that a members profile might be a good way of getting to know a little bit about fellow members and their bikes. If members could send in a few pics of themselves and their bike or bikes, it might help people like me who are a little isolated in Canberra, who don't get to club events, get to know fellow members a little better.
So here goes.
Hi, my name is Gordon, I have lived in Canberra most of my life and love it here although the winters get very cold I still ride most of the year, I am 53 years old and have been riding for nearly all of them but never had an XS until I bought my XS650B from club member Peter Lowry about 5 or 6 years ago. I also have a 83 CB1100F bol'dor in very good condition but nothing comes anywhere near the XS.
Although the XS looks very similar it is a very different bike than when I first got her. She now has a 77D front end with new OEM stanchions and progressive springs, damper kits, seals etc. The brakes have s/s pistons and kits through them. New tapered rollers in the steering head along with needle rollers in the swing arm and new shocks. The engine had a quick rebuild a few years ago although it is standard at this stage. I dismantled the bike last winter and sand blasted the frame and swing arm then had them repainted in black two pack by a friend. This took a lot longer than first planed ,5 months, although I had my Honda I couldn't wait to get the old girl back on the road. The tank and side covers I hope to have done soon. New wheels are next on the menu having already purchased new rims, spokes, bearings and seals so now I have to get the hubs soda blasted and polished. I have replaced most of the bolts etc with s/s items where I can get replacements. I have been replacing a lot of bits with NOS parts purchased on the internet when I can find them and afford them. Money is always the biggest problem these days as the wife and three teenagers have to come first. All work I have done my self apart from the paint, which is a huge saving.
I ride this magnificent piece of machinery on the week ends as often as I can and to work most days as I just can't help myself. I love this magnificent beast and sorry people but I do not under any circumstances intend to do any thing silly like sell her.
Well that's a little about me and my old girl so go and put some Ks on yours.
Safe riding every one and hope to catch up one day.
Gordon Bailey

Dennis's bike was recently finished at Professional Motorcycle Tuning and runs on a club permit.
Engine had full rebuild as in rebuilt crank to 277 deg with MikesXS fat 750cc kit, my mild street cam, ports just cleaned up, s/steel valves and spring kit from MikesXS's as well.
Engine cases were wet blasted, not soda blasted as that can "stain" the alloy, all gaskets and seals replaced. Carbs are from 650 Central, VM34's, and a custom made pipe that the owner got made to no specific design, just the look he was after. New cam chain with both front and rear tensioners replaced. Electrics are supplied by a Sparkx unit running total loss and the ignition is a Pamco 277 deg unit to match the rephrase. Gearing is a tall 17/30. Unifilters on the carbs, I prefer K&N filters as these do not "crush" as the engine starts to "breath".
Bike is a bit hard to start, starter motor removed but I left the cross over shaft in place if the owner wants to retro fit it back, could do with a small gel battery to assist with this starting problem.
Got the bike fired up and checked the timing as this can only be done with the engine running when a Pamco unit is fitted, checked and adjusted the balance of the carbs, they were a bit as was the ignition timing, exhaust note was awesome out through the Supertrap muffler, time for a short test ride, I let the owner out on it first, no rego, yet.
Under our Victorian nanny state hoon laws the bike would be off to the lock-up for a month and big fines, so I let the owner done the honors. He came back with a grin from ear to ear.
I just had to have a go, now remember that this engine has only got maybe 15 minutes on it and is running tall 17/30 gearing, stock is 17/34, all the thing wanted to do was rev and lift the front wheel, just wait till it is run in. BLOODY AWESOME!!!!!!
Some fine tuning on the carbs, put a small battery under the custom seat to help with the starting and on to the dyno to see what it will make, but I am happy as is the owner at this point in time.