David Giles' Project
Terry,
Just a couple of quick shots of Dave Giles '79 Special, as you can see, it is down to bare frame & empty cases.
I have gusset the frame & made a brace for the swing-arm & now it is ready for final clean & paint.
The cases have been bead blasted & will be painted in aluminium/silver & baked. Will send more shots as work progresses.
David Taylor
More progress pic's of Dave Giles '79, the frame & swing-arm & assorted brackets etc; have been painted in black two-pack, & the engine cases etc; are now ready for final assembly.
More to follow as it happens.
Swing arm installed, with needle roller bearings & a central grease nipple fitted to the underside of the swing arm.
Also 11 inch Koni's to keep things low at the rear end. Lower steering head installed with tapered roller bearings should help in the handling department.
Update on Dave Giles project, the engine is now finished, it has 1.5mm oversize pistons, ported head, crank checked & re-aligned & Mike's high volume oil pump installed. The wheels have been polished & painted & the forks cleaned, polished & rebuilt. Internals include progressive springs & Mike's new adjustable valve dampers. The rolling frame is now ready &
waiting for the engine. More to follow.
David
Update (7/4/08)
Terry,
Latest update on Dave Giles bike, we have the motor in the frame, gauges & wiring in place & solid state regulator/rectifier & electronic ignition installed as well. Just waiting for the refurbished carb's to be fitted as well as the new exhaust system.
Cheers for now
David
July update for Dave Giles project.
Carby's fitted & a borrowed exhaust (will have Mikes Commando mufflers soon) motor fired & sounds good, just waiting on paintwork & a rear brake hose to finish completley.
Will be ready for the AGM & Moto GP.
Regards
David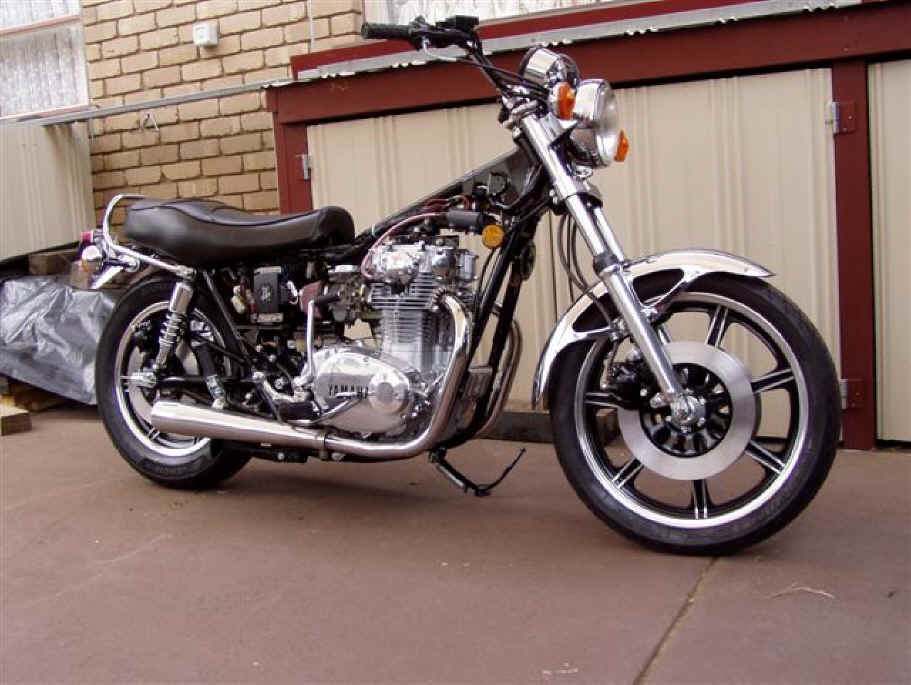 Update 28/9/08
Terry,
Final photos of Dave Giles '78 Special, as you can see, we changed the exhaust, now running pipes from Dave Taylor, Commando mufflers from Mikes XS, looks good & sounds great.Got the paint-work back & fitted,only word to describe it is awesome. Bike is now finished & booked in for RWC & rego this week, so you will see it @ the AGM.
Regards
David

Geoff Bamford's collection

As you can see Geoff has quite a collection of nice XS650's, XS1, XS650D, TX650, XS650C and a TX650A, but these are only the ones in this picture! Geoff tells me he has about forty bikes at the moment, all XS650 Yamahas although some are in pieces awaiting restoration! Perhaps Geoff should think about starting up a museum.

Dennis Theinert's Chopper
Terry, just dropping you a line to let you see some pics of my chopper. If you find them suitable I would appreciate them being included in the "members bikes" section of the website. Kind regards, Dennis Theinert. Margate , Tasmania , 7054. Ph 03 62671376.
Well this is what Dennis's bike used to look like, below is what it looks like now after a total rebuild, WOW

Rob Roesler's '78 Special (UK import)
Above: Rob's bike as he bought it several years ago, this bike is a UK import and has the 533 motor.
Rob's bike as it was up until a month or so ago fitted with the two into one exhaust, it now sports a MikesXS two into two with Norton pee shooter type mufflers.

06 November, 2014